Winter 2021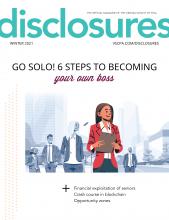 Career
Go solo! 6 steps to becoming your own boss
Remote Working
5 ways to thrive with your remote accounting team
Technology
A chip off the old block: A crash course in blockchain accounting
The technological struggle
Fraud
Yes, you can save seniors: Watch for warning signs of financial exploitation
Taxation
Opportunity knocks: Tax savings in opportunity zones
Spotlight
The VSCPA's first-ever Women to Watch: Joan Renner, CPA, and Iris Laws, CPA
---
Spring 2021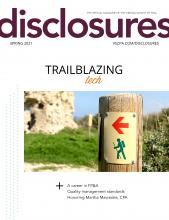 Technology
Trailblazing tech: What you need to know
Careers
Embarking on an FP&A career
CPA Pioneer
Building a culture of trust: Martha Mavredes, CPA
Practice Management
The Virginia landscape of CPA firm compensation
Advocacy
The long two-month road to tax conformity
Auditing
One size no longer fits all
VSCPA
VSCPA congratulates new 40-year members
Sponsored Content
Secure Act 2.0: On the horizon for workforce retirement plans (Paychex)
---
Summer 2021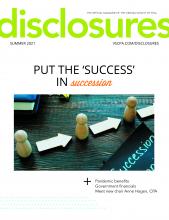 Practice management
Put the 'success' in succession
Government
Checking the nation's financial pulse
Innovation
Providing connection and calm
Wellness
Do you know your workplace hazards?
Technology
Do your electronics need last rites?
Line Items
Demand grows for ESG reporting
VSCPA
2021 Outstanding Member: Alan Witt, CPA
2021 Ruth Coles Harris Award Winner: Tyrone Dickerson, CPA
2021 Top 5 Under 35
2021-2022 VSCPA Chair Anne Hagen, CPA: 'Let's make the profession as inclusive as we can.'
VSCPA Educational Foundation awards $59,250 in scholarships
Sponsored Content
How accounting firms can use freelancers to grow (Accountingfly)
---
Fall 2021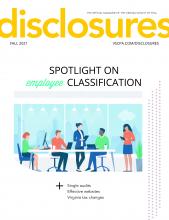 Practice Management
Classify new hires right
Employee or contractor? Classification matters.
Marketing
Make a stellar online impression
Auditing
Spread the word: A single audit may be necessary
The latest guidance on single audit requirements
Advocacy
Comments and recommendations galore
Top legislative issues around the nation
Taxation
Virginia tax legislation: What you need to know
Professional Development
Want to reach peak performance? Start with your mindset.
VSCPA
Statements of Financial Position & Statements of Activities
Remembering Ellis Dunkum, CPA
Sponsored Content
5 reasons CPAs should let clients pay using QR codes (CPACharge)