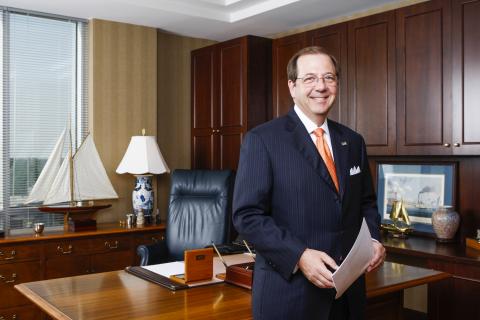 Alan Witt, CPA, has worn many hats in his lengthy accounting career — partner, community champion and now college instructor, to name a few. But he's proudest of those three letters after his name. 
Witt, recently retired as partner at regional firm PBMares — he was the Witt in Witt Mares, one of the predecessor firms that created the firm with the merger with PBGH in 2013 — is the VSCPA's Outstanding Member of the Year for 2021, in no small part thanks to his indefatigable support for the profession, its future, and his adopted hometown of Newport News. 
Witt grew up in New Jersey before his family moved to Newport News during his last year of high school. He never left the city, attending Christopher Newport College (now Christopher Newport University, or CNU), where he now teaches accounting, and spending his entire career there. Bit by the bug of civic service, he spent three years on the Newport News City Council, but his short political career barely scratches the surface of what he did for the city. 
"If you're blessed with success, you have a responsibility to pay back to whatever community you're in," he said. "I always looked for avenues of service that would permit me to use my skills, as limited as they may be, to help advance the community." 
Modesty aside, it's hard to find a better champion for Newport News than Witt has been over the course of his career. He worked his way up to chairman of the Virginia Peninsula Chamber of Commerce in the late 1980s and had similar involvement with the Newport News Industrial Development Authority (NNIDA). Then-Gov. Chuck Robb appointed him to Christopher Newport's Board of Visitors, where he eventually served as rector. 
Witt led the charge for several major changes that helped transform CNU from a small commuter school to a full-fledged residential university — building the college's first dorm, expanding the campus through the purchase of Ferguson High School and ultimately changing the name to Christopher Newport University. Now he's in a completely new role at the university — executive in residence, teaching an accounting course, and working on projects within the master's program at CNU's business school. 
"It's rewarding to come back here again at a completely different station in life," Witt said. "What I've enjoyed the most was working with these bright young students." 
Witt followed a well-trodden path when he was one of those bright young students (with an emphasis on "young," as he graduated from college at the age of 20). He entered school as a non-accounting major (political science, in his case) before coming to terms with the reality of his employment prospects through that major and determining that accounting was the best path to a reliable, lucrative job. That job came with Newport News firm Eggleston Smith, a move that put Witt in contact with managing partner Bernard Smith, soon to become chair of the VSCPA Board of Directors. 
That contact led Witt to his lengthy volunteer path with the VSCPA, with stints on the Accounting & Auditing Advisory Task Force and the Ethics Committee, along with a year as president of the Society's Peninsula Chapter. He was making moves in his own career as well, founding Rauch Witt, the firm that would become Witt Mares and eventually PBMares. There was never any doubt that his research led him to the correct profession. 
"Not only do you have the ability to exercise your expertise and really focus on what can be some complicated transactions and financial scenarios, the flip side is that you get to work with clients. You get to work with people," he said. "The number of different relationships one builds throughout one's career is never less than rewarding. I found public accounting to be the perfect combination of practicing in an area of technical expertise and building relationships." 
Those relationships helped him build the reputation he needed for one of his other proudest accomplishments — the development of City Center at Oyster Point in Newport News. During his chairmanship of NNIDA, the group engaged a consultant to help them determine how best to develop what was then an area full of warehouses and mixed-use buildings. 
"The consultant said we had to create a sense of place," Witt said. "The city built a 5.5-acre fountain that was the focal point. I take a great deal of pride in being there and being part of the group that brought it to fruition and created the buildings around that fountain." 
His dedication to service also led to his election as 2021 chair of the Virginia Chamber Board of Directors, after having served in the Chamber's leadership for several years. 
Witt cites education and health care as the two most important pillars to a community, and he's been heavily involved in both. He spent 21 years on the board of directors of Riverside Health System, which operates medical facilities on the Peninsula and the Eastern Shore. He also got involved with transportation and ended up as an appointee to the Commonwealth Transportation Board. 
Add it all up, and you get a remarkable life of service to a community and a university where Witt had barely lived before he decided to set down roots. That service extended to making the accounting profession, and the VSCPA, better equipped to serve their missions. 
"In my career, I have touched many organizations and endeavors, but my proudest career accomplishment is being a CPA," he said.
"If you're blessed with success, you have a responsibility to pay back to whatever community you're in."