Session Watch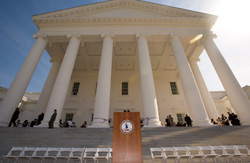 The VSCPA monitors bills that could potentially affect the CPA profession, takes action whenever necessary and posts updates here.
The 2021 General Assembly session is going to be unique and fascinating. Our advocacy team is working to make sure elected officials and policy-makers understand your priorities. 
See what we are tracking and take action NOW! 
See letters we have submitted to policy-makers on your behalf. 
CPA Assembly Week 2021
Register for our special 2021 CPA Virtual Assembly Week (times subject to change) 
2021 General Assembly Session Preview - January 18, 2021 from 12:00 pm - 12:45 pm
A Budget Conversation With Sec. Aubrey Layne - January 19, 2021 from 11:30 am - 12:15 pm
A Conversation With Elected Officials - January 20, 2021 from 11:30 am - 12:30 pm