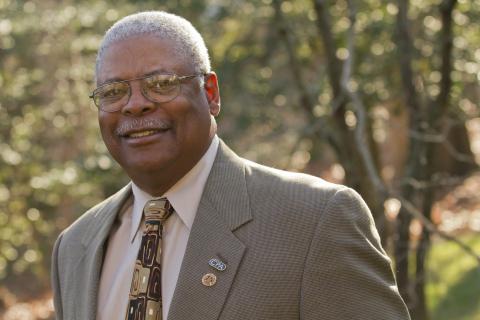 Tyrone Dickerson, CPA, references the décor at the National Association of State Boards of Accountancy (NASBA) offices when discussing diversity in the accounting profession. Now NASBA has made progress on improving the profession's diversity, led by Dickerson and inspired in part by those pictures on the wall. 
Dickerson, a 77-year-old sole proprietor from Richmond and the winner of the VSCPA's 2021 Ruth Coles Harris Advancing Diversity & Inclusion Award, was the first chair of a working group that became NASBA's Diversity Committee, charged with increasing diversity on state boards of accountancy and in NASBA itself. He was tapped for the role by NASBA President and CEO Ken Bishop, who was becoming more and more bothered by the preponderance of white men on the wall at the NASBA offices devoted to pictures of past association chairs. 
"Every time he walked out of his office, he would look at pictures on his wall, and he would see that everybody was pretty much old, white men," Dickerson said. "He started talking about it more openly and wrote an article in our quarterly newsletter. When I saw the article, I called him, and we talked about it, and he said, 'Tyrone, I don't know what I want to do with this, but it's been bothering me ever since I became president of the organization. I'd like to start a diversity group and see where we can take it,' and he invited me to work on the committee." 
While increasing diversity within NASBA leadership was a personal priority for Bishop, the effort still could have died on the vine without adequate support from the association's board of directors, which changes over its membership each year. Fortunately, the board agreed that the project was an important one and promised to keep it as an organizational priority. 
"I had a good relationship with the chairs and the past chairs and the people who were coming in," Dickerson said. "The new vice-chairs who were coming in bought into our strategic plan to introduce more minorities to the organization and pledged to continue those diversity efforts." 
That group started its work in 2014 and became a full-on committee a year later after working to define scope and goals. Since the launch of the Diversity Committee, the NASBA chairs have included two Black men and one Latino (current chair Carlos Barrera, CPA), as well as two women. It's been an impressive shift for a group that has to pull its members and leadership from the relatively small pool of members of state boards of accountancy approved by the governors of their respective states. 
"Over the last couple of years, there really has been an increase in the number of minorities that have been appointed to the boards," Dickerson said. "That has been very, very encouraging. It seems that the efforts of the committees to reach out to the different societies are really working." 
Each year, the Diversity Committee sends a survey to the 55 NASBA jurisdictions, both to measure its progress in increasing diversity within state boards of accountancy and to identify potential leadership candidates. NASBA started holding informal cocktail receptions at its regional meetings to help educate members on potential leadership opportunities, leading to increased applications overall, but particularly among members of color. 
When Dickerson served as NASBA's mid-Atlantic regional director, he oversaw a region of seven states, and he spread the gospel of NASBA's efforts to protect the profession (and need for volunteers) at VSCPA events and other CPE. 
There were no such efforts in place — nor, really, much in the way of a Black presence in the profession — when Dickerson started his career coming out of Central State University, a historically Black university in Ohio. He began his career as one of only a few Black CPAs in Philadelphia and eventually moved to Lucas, Tucker & Co., at the time the largest Black CPA firm in the country. His mentors at that firm included several of the first 100 Black CPAs in the country. 
"These guys were so inspirational," Dickerson said "At that time, being a young, Black CPA, we were striving to become what they were. In terms of how they functioned, how they operated, how they met with clients, it was a lot of experience and a lot of exposure. They were the ones who really set me on my journey in terms of becoming a partner in the CPA firm." 
Now Dickerson is working to create pathways for future Black partners. In addition to his work at NASBA, where he was re-elected to a three-year term in 2018, he returns to Central State each year to discuss and promote the accounting profession with current students. He's also been a member of the Virginia Union University Board of Trustees since 2005. 
"I came from an HBCU, and this is my way of giving back to those who helped me in my career path to become a CPA," he said.