Editor's Note: This is part of a series of profiles highlighting the diverse interests and careers of VSCPA members. Know a member (including yourself) who would make for an interesting profile? Email VSCPA Communications Specialist Chip Knighton.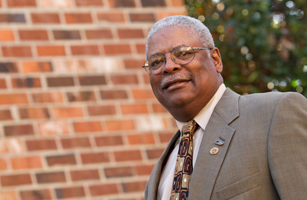 In another life, Tyrone Dickerson, CPA, never would have performed an audit. He would have traded his suit and eyeshade for a pair of gym shorts and a whistle as a physical education teacher. But with some direction from a pair of mentors, Dickerson embarked on a trailblazing career that took him to Harvard Business School and the chairmanship of the Virginia Board of Accountancy (VBOA).
Dickerson's term on the VBOA ended June 30, although he's still serving until his replacement is appointed. It all began with a meeting with Donald Redcross, CPA, who helped him see the benefits of the profession.
"In between when I graduated and when I went to school, I met a black CPA," Dickerson said. "There were only six in the city of Philadelphia at the time. He explained to me basically what a CPA does. He said, 'If you majored in accounting and became a CPA, you would never, ever have to worry about a job.' I said, 'How's that?' He said, 'In the good times, we help clients learn how to spend their money. There's a demand. In the bad times, we help keep our clients out of trouble with the IRS.' That clicked with me. The first day I got to college, I changed my major from phys ed to accounting, and I never looked back."
Dickerson found another mentor at Central State University in Ohio in accounting professor Herbert Willis, whom he called "one of the most brilliant instructors I ever met."
"He was a brilliant instructor and a great mentor," he said. "Once I told him I wanted to be a CPA, he did everything in his power to help me get there."
After graduating from Central State, Dickerson became the first black hire at a medium-sized firm in Philadelphia. He moved on to Harvard Business School, where he started a management consulting firm that eventually merged with Lucas, Tucker & Co., the largest black CPA firm in the country at the time.
After spending time as a vice president at a venture capital firm, Dickerson made the move that would land him in Virginia for good. A Harvard colleague had invested in an AM radio station in Virginia and asked him to look over its finances.
"He wanted me to take a look because he was not getting good financial information," Dickerson said. "I did a fraud audit and found that the controller was embezzling funds. I presented the audit and he was convicted and got 15 years in prison. The board fired the general manager and literally made me an offer I couldn't refuse — controlling interest in the station."
Dickerson eventually sold the station, but he'd fallen in love with Richmond by that point. Officially, he's a sole proprietor and former VBOA chair, but he could have just as easily worked for the city's tourism board.
"I love the city of Richmond," he said. "I could be a one-man ambassador. It's small coming from Philadelphia, New York and Boston. I hate big cities. I hate congestion. I hate traffic. Richmond doesn't have any of that.
"I love the seasons. I'm an avid golfer and I love all the great golf courses in Richmond."
Dickerson joined the VBOA in 2005 and admits he had "no idea what I was getting involved in." With some help from his colleagues, he learned the ropes quickly and spent the 2010–2011 fiscal year as chair.
"The members on the board took me under their wing and made it clear that I was a regulator," he said. "That's different from being a practitioner. We're there to protect the public from wrongdoing."
The highlights of Dickerson's VBOA tenure were the rewriting of the state's accounting regulations and statutes, but the work behind the scenes was just as important. With the passage of a new fee structure, the board is on much stronger financial footing. And the VBOA has been cited by the National Association of State Boards of Accountancy (NASBA) for several of its initiatives and operations.
With his VBOA tenure coming to a close, Dickerson hopes to remain active with NASBA. He's a member of the board's Enforcement Resources Committee and has used that experience to help identify potential problems in Virginia. Moving forward, he'll help NASBA as a regional director for the Middle Atlantic region.
"You hear exactly what's going on with other regions and that alerts you to something that could be happening in your state," he said. "NASBA takes a very proactive approach to helping the boards. We're fed information constantly, almost on a weekly basis, on what's happening as far as the boards are concerned."
While Dickerson doesn't like to stay still for very long, his time on the VBOA is swiftly drawing to a close. He'll fill the extra hours with work, NASBA responsibilities, time with his family — he has two grown children, one in Richmond and one in Baltimore — and his passion, golf.
"Golf, to me, is very relaxing and challenging all at once," he said. "It's challenging because very hole is different, every shot is different. It's relaxing because I'm out in nature. Whether it's sunny, cloudy or so forth, I'm not distracted. I don't have to worry about clients. I don't carry my cell phone on the golf course. I'm just out there with my buddies, playing a round and just enjoying it."