Access 2020 issues of Disclosures below. If you have questions about the magazine, contact Disclosures Managing Editor Jill Edmonds at (800) 733-8272.
---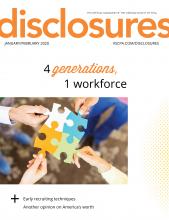 Practice Development
4 generations, 1 workforce
Talent
Entice them early
Government
America's worth: Another opinion
Advocacy
A new year, a new leadership for Virginia
Innovation
How to effectively implement innovation
Young Professionals
Phones down!
---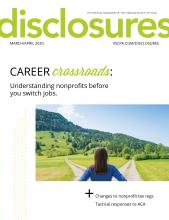 Nonprofits
Career crossroads: Understanding nonprofits before you switch jobs
Taxing nonprofits
Health Care
Tactical responses to the ACA
Advocacy
All eyes on the General Assembly
Young Professionals
4 ways to unplug
---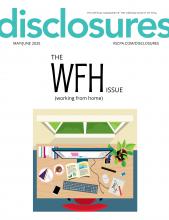 Remote Working
Are you WFH the right way?
The new normal: The WFH firm
Practice Management
Supercharge your compensation program
Today's talent decisions affect tomorrow's success
Advocacy
Advocating during a pandemic
Young Professionals
Hey, young pros: Accounting is a career, not just a job
VSCPA
2020-2021 Board Chair Henry Davis III, CPA
2020-2021 Educational Foundation Chair Dianne Guensberg, CPA
---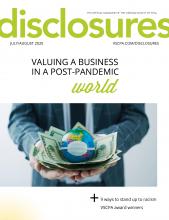 Valuation
Valuing a business in a post-pandemic world: Part 1
ONLINE BONUS: Valuing a business in a post-pandemic world: Part 2
Coronavirus
Employee safety is No. 1 member concern
Fraud during COVID: Significant
Management
Want ethical staff? Be the model.
Diversity
9 ways to stand up to racism
VSCPA statement on racial injustice
Innovation
Handling competition: Is it time to be innovative?
Advocacy
Coronavirus-related advocacy continues
Virginia Board of Accountancy news
Regulatory
The list of delays is long
VSCPA
2020 Outstanding Member: Mike Gracik Jr., CPA
2020 Impact Award recipient: Louise Reed, CPA
Ruth Coles Harris Advancing Diversity & Inclusion Award recipient: Patricia Drolet, CPA
Top 5 Under 35 Award recipients
VSCPA Educational Foundation
Congrats to the newest scholarship recipients
---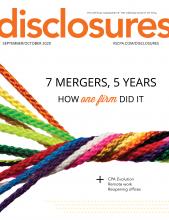 Practice Development
7 mergers, 5 years: How one firm did it
CPA Profession
A new horizon for the CPA
Remote Working
'You can do this': How one VSCPA member manages remote work and homeschooling
CPA Licensing
Moving across state lines? Avoid regulatory pain
Reopening
How 2 firms responded to COVID-19
What does the 'new normal' look like?
VSCPA
Virginia has 2 Elijah Watt Sells Award winners
---
Audit
The new world of remote auditing
Industry
Illicit to essential: Cannabis in a post-COVID-19 world
Compensation
The rhyme and reason of executive pay
Leadership
5 questions to elevate your leadership today
Professional Development
The 3 C's of creating a personal brand
Taxation
7 tips for navigating tax controversy
CPA Licensing
Yes, you can serve your community: Just know the rules