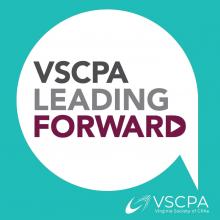 In this podcast, VSCPA Chief Operating Officer Maureen Dingus, CAE (@MaureenDingus), talks with leaders in and out of the accounting profession about topics such as leadership, innovation, corporate culture and technology. Theme song by The Green Hearts.
Episodes
January 2020: (Re-post)  A Conversation on Global Accounting With Kimberly Ellison-Taylor, CPA
VSCPA Leading Forward host Maureen Dingus, CAE, goes in-depth with the past Chair of the American Institute of CPAs (AICPA), Kimberly Ellison-Taylor, CPA of Oracle about her focus on global accounting.
 
October 2019: Crucial CPA Technology With Donny Shimamoto, CPA
A longtime friend of the VSCPA finally appears on Leading Forward! Donny Shimamoto, CPA (@donnyitk), joined us for a presentation at Leaders' Summit and sat down with Maureen afterward. Listen for great insights on technology and how you can help your practice stand out in a crowded marketplace. Visit the show transcript and links here.
 
September 2019: The Entrepreneurial CPA With Garrett Wagner, CPA
Another great discussion from our Leaders' Summit! Garrett Wagner, CPA (@garrettwagner37) of C3 Evolution Group joined us to talk about the future of the profession and how CPAs need to be entrepreneurs to compete in the economy of the future. Listen to learn the skills Garrett identifies as most important to the entrepreneurial CPA. View the show transcript here.
 
August 2019: Leadership Character With Alanna McKee
Alanna McKee, a senior consultant with McKinley Advisors (@McKinleyAdvisor), joined us at our annual Leaders' Summit conference in May, and she was gracious enough to sit down with Maureen to discuss how our character traits impact our organizations and how leaders can leverage character to lead more effectively. View the show transcript and links here.
 
July 2019: The Social Contract With J.J. White
It's a Leading Forward field trip! We ventured out into the wilds of Goochland to visit JJ White (@jj_white), host of the Great People Show (@greatpeopleshow) and chief engagement officer at Dale Carnegie of Virginia (@DaleCarnegieVA). Listen to a great conversation about corporate culture, the employer-employee relationship and the value of the mindset of constant growth. View the show transcript and links here.
 
June 2019: Your Post-Tax Season Checklist With Sherrill Hebert
Sherrill Hebert, national sales director at VSCPA technology partner Cetrom (@Cetrom), is our guest on this month's VSCPA Leading Forward. He and Maureen go through how CPA firms should include a technology debrief in their post-tax season review. View the show transcript here.

May 2019: Learning How to Learn With Saundra McGuire, Ph.D., and Vivian Paige, CPA
Saundra McGuire, Ph.D., director emerita of the Center for Academic Success at Louisiana State University, and VSCPA member Vivian Paige, CPA (@vpaige), senior lecturer of accounting at Old Dominion University in Norfolk, joins guest host Chip Knighton to talk about McGuire's research into how students learn and how that's applicable to accounting education, the CPA pipeline and lifelong learning. If you like what you heard, visit vscpa.com/EducatorsExchange to sign up for our free Accounting Educators' Exchange, where Saundra is the opening speaker! View the show transcript and links here.

April 2019: The Leadership Journey With John Sarvay
This month, Maureen talks to an old friend: Floricane founder John Sarvay (@sarvay), whose company "helps organizations figure out what's next and how to get there." They discuss John's leadership journey and how it has helped him prepare other professionals along their own. View the show transcript here.
 
March 2019: Working Anytime, Anywhere With Tamera Loerzel
The impossibly patient Tamera Loerzel (@tameraloerzel) of ConvergenceCoaching joins Maureen to discuss the results of Convergence's Anytime, Anywhere Work Survey. She's got great insights on leadership, remote working and her own professional journey. View the show transcript and links here.
 
February 2019: Effective Communication With Merikay Hunt
Fresh from this morning's call to your ears, we've got Merikay Hunt, founder and CEO of COACH MKay Companies. Merikay spoke at our Leadership Academy last November and offered her great insights on communication, leadership and work-life balance. Find her at coachmkay.com.

January 2019: Remote Working With Tina Bates, CAE
It's a new year, so we've got...an old podcast! We recorded this episode last year with VSCPA Vice President, Advocacy Tina Bates, CAE, as a proof of concept, back when we were still discussing the form VSCPA Leading Forward would take. (Sharp-eared listeners will notice the podcast didn't even have a name yet.) But the content was so good (and dovetailed so nicely with December's episode with Byron Patrick) that we wanted to make it available to you. Enjoy as Tina and Maureen discuss Tina's experiences working remotely from South Carolina!

December 2018: Managing Change With Byron Patrick, CPA
VSCPA member Byron Patrick, CPA, managing director of the CPA practice area for Network Alliance, joins us this month. Byron is a member of the VSCPA's Center for Innovation Advisory Council, and he and Maureen had a great conversation about innovation, technology and leading and managing through change.
 
November 2018: Inside Blockchain with Louise Reed, CPA
Fresh off her presentation at the VSCPA's Tech-Know Summit, VSCPA member Louise Reed, CPA, discusses her own "A-ha!" moments that led to the creation of her new business, Afloat, which uses blockchain technology to facilitate the sale and transfer of transferable tax credits. View the show transcript here.
 
October 2018: Being Intentional About Culture With Shawn Boyer
VSCPA Leading Forward host Maureen Dingus, CAE, goes in-depth with Shawn Boyer, CEO of Snagajob and GoHappy, about his focus on innovation and why it's important to be intentional about corporate culture.
 
September 2018: Creating a Culture of Innovation With Mark Sedgley
VSCPA Leading Forward host Maureen Dingus, CAE, sits down with Mark Sedgley, president of CEO of association software company MemberClicks, to talk about the culture at his company and how he tries to be intentional about the process of innovation.
 
August 2018: Navigating Change With Bill Reeb, CPA
VSCPA Leading Forward host Maureen Dingus, CAE, sits down with Bill Reeb, CPA, vice chair of the American Institute of CPAs (AICPA)and CEO of Succession Institute, to discuss the disruptive change CPAs face and how the profession can use it as an opportunity to redefine its core services and value proposition.
 
July 2018: The Firm of the Future With Richard Groover, CPA, and Gary Thomson, CPA
We've got a live episode of VSCPA Leading Forward, recorded at our Firm of the Future session at last month's VSCPA Educators' Symposium. Host Maureen Dingus, CAE, chats with VSCPA Board of Directors Chair Richard Groover, CPA, shareholder at Wall, Einhorn & Chernitzer in Norfolk, and Chair-Elect Gary Thomson, CPA, regional managing partner at Dixon Hughes Goodman in Richmond. Listen for their great insights on where their firms are headed!
 
June 2018: Engaging Millennials With America's Millennial Expert, Gabrielle Bosché
VSCPA Leading Forward host Maureen Dingus, CAE, sits down with Gabrielle Bosché, "America's Millennial Expert," to discuss what makes millennials unique and how savvy managers can unlock their potential.
 
May 2018: A Conversation on Global Accounting With AICPA Chair Kimberly Ellison-Taylor, CPA
Welcome to VSCPA Leading Forward, the VSCPA's podcast on leadership and innovation in the CPA profession! Our inaugural guest is a great one: Outgoing American Institute of CPAs (AICPA) Chair Kimberly Ellison-Taylor, CPA, global accounting strategy leader at Oracle.