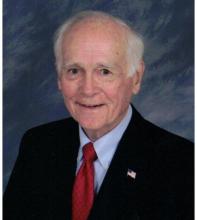 VSCPA past president and long-time member Samuel Derieux, CPA, died March 8, 2020. Derieux was a tireless champion of the accounting profession who helped shape the modern face of the VSCPA and American Institute of CPAs (AICPA). Here are just a few of Derieux's accomplishments:
He joined the VSCPA in 1953 and obtained lifetime membership in 1993, making him a VSCPA member for more than half of the Society's existence.
He ascended to serve as VSCPA president in 1962–1963. 
Derieux is the only person ever to serve as both president and chairman of the AICPA Board of Directors, having served as the AICPA's leader the year the organization changed the name of the position (1973–1974).
He was honored by the AICPA with a lifetime seat on the AICPA Council, and regularly attended Council meetings.
He is the only AICPA member known to have attended the celebrations for the organization's 75th, 100th and 125th anniversaries.
Derieux enrolled at the University of Virginia after serving in the Navy during World War II. He began his career with a four-year stint as a bank examiner at the Federal Reserve Bank of Richmond before spending 25 years as an accounting generalist at Richmond firm Fairbank, Knapp & Co. before striking out on his own as a sole proprietor. He later joined forces with Don Watson to form Derieux & Watson, which became Derieux, Baker, Thompson & Whitt before eventually joining Deloitte in a merger.
A gifted writer, Derieux wrote a history of the VSCPA covering the second half of the 20th century, a companion piece to the 1900–1950 history written by W.P. Hilton, the Society's first president. He also loved to write poems, jingles and limericks. 
"We have lost a true gift to the CPA profession," said VSCPA President & CEO Stephanie Peters. "It's impossible to quantify how much Sam has meant to the Society and its members over the last 60 years. Even after retirement, Sam was always interested in how the profession was changing and evolving, and he always maintained tremendous influence with the profession's leaders across the country. He could see the humorous side of any situation, but above all, he treated everyone with dignity and respect."
VSCPA Past President Stephanie Saunders, CPA, shareholder at Saunders & Saunders, PC, in Virginia Beach, concurred. "Sam was a true Virginia gentleman and lived a full and well-respected life. When I was on AICPA Council, Sam was a mentor to all who had the opportunity to serve on Council. AICPA leadership and staff knew Sam well and when he had something to say, everyone listened! He also had a quick wit and many of his 'poems' were shared among his colleagues."
To honor Derieux's memory and commitment to the profession, the VSCPA is establishing the Samuel A. Derieux, CPA, Memorial Scholarship. The scholarship will be awarded once a $50,000 minimum threshold is reached. To donate:
Read more about Sam in "Sam Derieux Looks Back On 60 Years With the VSCPA," a member profile from 2018.
Derieux's official obituary is online here in the Richmond Times-Dispatch.