Editor's Note: Sam Derieux, CPA, passed away on March 8, 2020. Read more about his remarkable life here, and enjoy this interview with Sam from a few years ago. Additionally, the VSCPA Educational Foundation instituted the Samuel A. Derieux, CPA, Memorial Scholarship in 2021.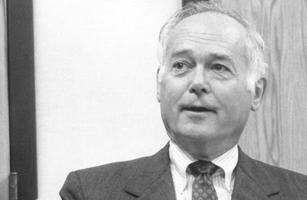 He's a walking, talking history book, an accounting icon, an architect of the VSCPA as we know it. No matter what you do with your VSCPA membership, Sam Derieux, CPA, had a hand in creating it.
Some facts about Derieux's career in the profession and with the VSCPA and AICPA:
He attained VSCPA Lifetime membership in 1993. A college student who was born that year is likely going into the second semester of his or her junior year.
He has been a VSCPA member for more than half of the Society's existence.
He is the only person ever to serve as both president and chairman of the American Institute of CPAs (AICPA) Board of Directors, having served as the AICPA's leader the year the organization changed the name of the position (1973–1974).
He is the only AICPA member known to have attended the celebrations for the organization's 75th, 100th and 125th anniversaries.
But among the most interesting aspects of Derieux's lifetime in the profession is his perspective on the evolution of the VSCPA. When he joined the Society in 1953, there was only one staff member, and he split time between the VSCPA and other associations.
"It was totally member-driven," Derieux said. "We had an executive secretary, and by the time I was an officer, we had one man. His name was Harris Mitchell, and he did that kind of job for several organizations, including the VSCPA. He had an office and staff, but it was still member-driven. The committees initiated what was going to be done and then carried it out."
With that lack of full-time infrastructure in place, it fell to the members to create what has grown into an 11,000-member organization with 30 staff members. And it was Derieux who took on the task of organizing the VSCPA's committees by preparing a record of how they operated.
It wasn't a question that Derieux would perform that task, because that was the climate surrounding the VSCPA. While the lines of communication weren't as immediate as they are now, members from across the state were there to help solve their colleagues' problems.
"The members really helped one another. At any time, they were willing to stop what they were doing and answer a question," Derieux said. "I could call them and talk about a problem I was having with a client, and these senior members of the profession would take whatever time necessary to help me get it done. That was just the way we operated, and I would have done the same thing for someone else."
That's not the extent of Derieux's work in documenting the VSCPA's history. There are several boxes in the VSCPA's storage room marked "Sam Derieux Research Materials." And he wrote a history of the VSCPA covering second half of the 20th century as a companion piece to the 1900–1950 history written by W.P. Hilton, the Society's first president.
But the best way to get details on the growth of the VSCPA to its current incarnation is to talk to the man himself, which is how you get nuggets like the following story.
"I remember one time, a CPA had died and left his library to the Virginia Society," he said. "At a Board of Directors meeting, we talked about what to do with it. We didn't need it. I said, 'Why don't we accept it and have one of the universities keep it for us. We might have an office one day and start a library in our office.' One person around the room said, 'Why would we want our own office?'"
Derieux's work for the profession didn't end at the Virginia border, of course. One of his first tasks after joining was working on an AICPA committee to create a professional development course (as it was called before it became known as CPE) on legal liability for accountants.
That task, taken on less than a decade into his career, had a profound effect on the way he continued his career and approached his service to the profession.
"The course was given in May, and May was usually a pretty busy month, even after the busy season was over. I decided that I really ought to do this, even though it was going to take the best part of a week. The following year, I realized that I had accomplished just as much work with clients in May even when I took time off.
"You really can work for the profession and not have it hurt you in your relations with clients and your firm."
He eventually ascended to the AICPA Executive Committee on the strength of a letter he had written to nominate a colleague to the committee. Much of his work as president and chairman was done with the goal of bringing the profession together.
"The main thing that I was most interested in was having the profession together. Large firms recognizing the needs of the smaller firms, small firms recognizing the needs and operations of the larger ones," he said. "I wanted us to be one profession so we could solve the needs of the public better."
He was honored for his hard work with a lifetime seat on the AICPA Council. He still goes to Council meetings regularly.
Derieux played a big role in creating the accounting standards of the time as one of the initial members of the Financial Accounting Foundation, which oversees the Financial Accounting Standards Board (FASB). He also had a hand in the process that led to the creation of the AICPA's Financial Reporting Framework for Small and Medium-Sized Entities.
"It was becoming clearer and clearer that some of the standards being produced by the FASB were simply not relative to privately held companies," he said. "I remember at one point when there were discussions about what to do about leases, I talked to a lot of bank loan officers, most of whom dealt with smaller companies.
"They said, 'We don't care what you do about leases as long as you tell us about them.' That told me a lot about the people who use private company financial statements."
That we're this far into Derieux's story without once mentioning his actual employer is an indication of the vast impact he's had, both in Virginia and nationally. But he spent a distinguished half-century as an accounting generalist, starting at a Richmond firm Fairbank, Knapp & Co. before striking out on his own as a sole proprietor. He later joined forces with Don Watson to form Derieux & Watson, which became Derieux, Baker, Thompson & Whitt before eventually joining Deloitte in a merger. It seems impossible to believe, but he wasn't always in accounting, beginning his career with a four-year stint as a bank examiner at the Federal Reserve Bank of Richmond.
His career took root at the University of Virginia, where he enrolled after serving in the Navy during World War II. His passion for accounting stemmed from a class he took with an eccentric professor and CPA named Max Barlow.
"The place was packed with veterans who were returning. I went to my first accounting class, and there were no seats available," Derieux said. "Every seat was packed. And this very distinguished-looking professor said, 'Don't worry, gentlemen. I will give a quiz on Thursday, after which there will be ample room." And there was.
Derieux's writing career didn't end with the letter that launched his ascent through the AICPA. His father, James, was a journalist who worked as the Washington editor of Collier's magazine, and he passed on his love of the written word to his son. He continues to "fiddle with" poetry and often uses it to pay tribute to his colleagues at AICPA events.
Derieux, a widower, has young great-grandchildren who live in Florida and whom he describes as his "main blessing."
"I think about my great-grandparents as characters in history somewhere, and they were during the Civil War," he said. "Here I am playing with my great-grandchildren. It's an absolute blessing."
One of many in a career filled with high points and dedicated to serving the public, the profession and the VSCPA.