Introduction | Top
One of the four bold strategies of the VSCPA2025 strategic framework is "Drive Innovation and Vision," and that was a major area of focus in the 2018–2019 fiscal year. That was most evident with the launch of our new Center for Innovation, aimed at helping our members meet the professional challenges of tomorrow through innovative and visionary leadership.
The Center for Innovation is just one way we're embracing innovation to try to meet our members' needs. We rolled out our new grassroots advocacy system just in time for our biggest legislative challenge in years — tax conformity in the wake of the Tax Cuts and Jobs Act. Getting conformity passed required distinct, constant messaging to CPAs, their clients and legislators, and we used a combination of the new VoterVoice system and digital resources to deliver those messages to those groups. Read on through the report to learn more about how we're continuing to fulfill the VSCPA2025 plan, along with other ways we're focusing on the mission that's at the root of everything we do at the VSCPA: Empowering our members to thrive. 
Membership | Top
Currently, our membership encompasses more than 13,000 accounting professionals who work in public accounting, corporate finance and at government agencies or educational institutions, or are enrolled as accounting students. Here's what our membership looks like as of April 30, 2019.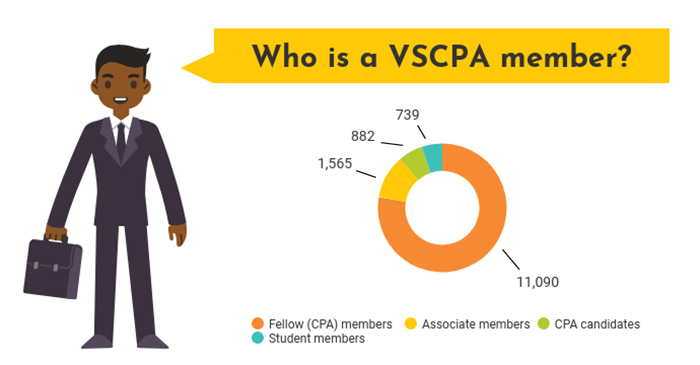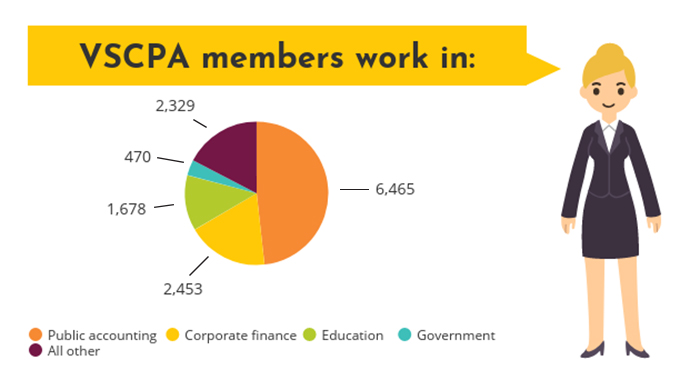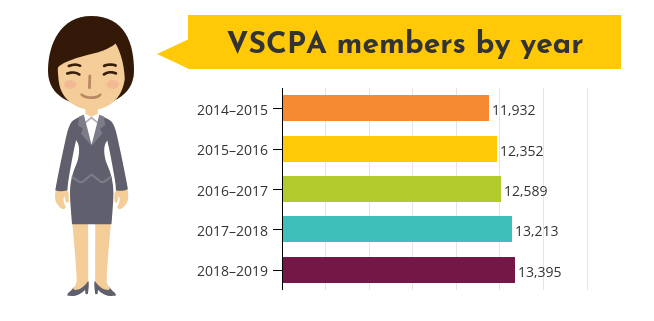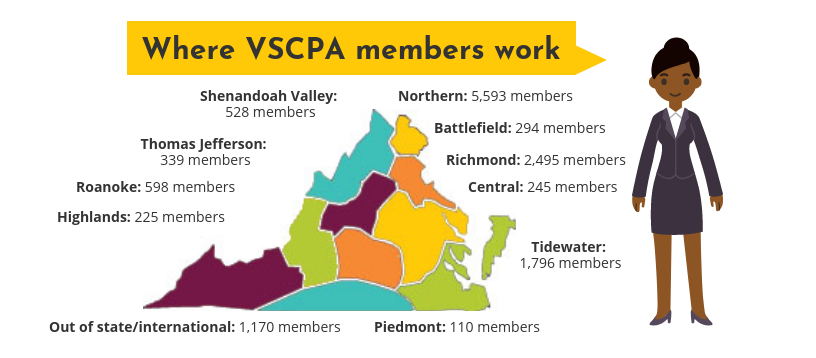 Innovation | Top
Center for Innovation
In November 2018, as part of VSCPA2025, we launched the Center for Innovation to empower our members to think big and to drive CPA relevance through innovative and visionary leadership. 
Powered by the Innovation Advisory Council, a group of CPAs and diverse industry leaders, the Center focuses on two key areas: 
Technology: Help members adapt to, embrace and leverage rapidly changing technologies
Talent: Help members build leadership skills and grow knowledge of global trends to develop talent and build a thriving workplace of the future
The Center offers a full suite of future-forward resources and programming that have been brought together through unique and high-value partnerships with local and national companies that are leaders in the areas of technology and talent. Our current partners are cloud provider Cetrom, artificial intelligence firm MindBridge, software provider Sage, and leadership development organizations like Dale Carnegie, Floricane, Frontier Academy, Innerwill and John Maxwell.
The New VSCPA Website
The new VSCPA.com launched in October 2018 and included both member-facing and behind-the-scenes upgrades. This redesign was driven by association best practices, industry trends and, most importantly, a focus on e-commerce and integrated functions to help put the VSCPA customer service you know and love at the forefront.
We're still developing powerful, mobile-friendly features to create the best possible experience for our members and customers. Please let us know if there's anything you've seen on other sites that you'd like us to consider as we continue to refine the site and our customer experience.
Advocacy | Top
Conformity: Not easy, but successful
Just like every year, the VSCPA entered the 2019 Virginia General Assembly session with the goal of passing tax conformity legislation. That's where the similarities to previous years ended.
Conformity took more careful communication, negotiation and plain effort than in any previous year because of the 2017 passage of federal tax reform in the form of the Tax Cuts and Jobs Act (TCJA). The politically fraught nature of the issue meant that passing conformity was always going to be a challenge, and the  VSCPA rose to that challenge. That meant member participation was more important than ever, and you delivered, sending 1,199 messages to 130 Virginia legislators through the VoterVoice system. Other members wrote editorials in key publications and contacted legislators through other means. We want to thank every member who participated in the effort, whether it was through our initial whitepaper (PDF) spearheaded by 2019 Outstanding Member Vivian J. Paige, CPA, or through grassroots activities. We couldn't have passed the bill without you.
On Feb. 15, Gov. Ralph Northam signed HB 2529 and SB 1372 into law, ending weeks of negotiations on a bipartisan deal that preserved the bills' emergency clauses. Upon Northam's signature, Virginia went into conformity with the U.S. Internal Revenue Code as of Dec. 31, 2018, including changes from the TCJA. 
 
Learning | Top
Online learning continues to be a priority for the Society, with attendance for VSCPA online events up 9 percent over fiscal 2018, continuing a steady upward trend for the past five years. That's just one way we're embracing technology, along with the inaugural Tech-Know Summit, a partnership with K2 Enterprises aimed at educating members on the latest technology developments that can improve their practices.
This year, the summit is changing to the two-day Technology & Innovation Showcase, featuring an exhibition as well as the great educational sessions you expect. We're excited to continue to work with Virginia CPAs to prioritize the technology that can take their practices to the next level.
Here's how CPAs took their CPE from the Society in fiscal 2018-2019: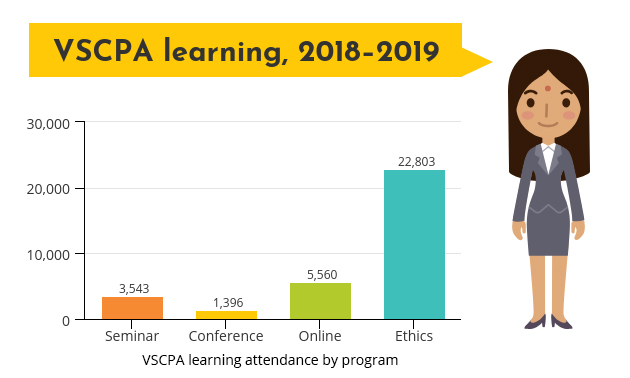 CPA Pipeline | Top
New CPA Ready Workshops increase access to the profession
In 2019, our annual Leaders' Institute program transformed into the CPA Ready Workshops. We held four of these events, which bring students and professionals together on college campuses for a single day of immersion into the profession.
The inaugural CPA Ready Workshops were held at George Mason University in Fairfax, Old Dominion University in Norfolk, Virginia Commonwealth University in Richmond and Virginia Tech in Blacksburg, serving a total of 116 students from 23 colleges and universities. After nearly tripling the amount of student engagement and reached a diverse group of students, we're looking at expanding the program to new universities in 2019–2020. 
CPAs in the Classroom gets students of all ages involved
Now it its third year, CPAs in the Classroom volunteers visit elementary, middle and high schools in their communities to discuss accounting careers. It's an effort to introduce students to the accounting profession before they get to college, allowing interested students to plan for an accounting major ahead of time. And it's a way to illustrate the diverse array of possibilities opened up by an accounting degree.
It's a sign of our members' enthusiasm for the program that we have many more interested volunteers than we've been able to place so far. Here's how the program made an impact in 2018–2019: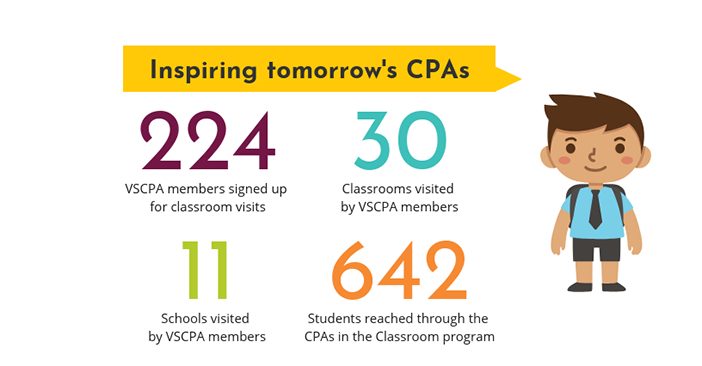 Those efforts are in addition to the usual dedicated work from the VSCPA Educational Foundation to help accounting students further their education. View a list of scholarship winners here or the Foundation's audited financial statements here (PDF).
VSCPA Financial Statements | Top
The VSCPA ended the 2018–2019 membership year with net assets of $4,337,161, an increase of just over $100,000 from the previous year. Current VSCPA assets amount to $5,742,196, with liabilities of $1,405,035.
Here's a breakdown of how the VSCPA made and spent money in 2018–2019. Click here (PDF) for the VSCPA's financial statements. The VSCPA and VSCPA Educational Foundation financial statements were audited by Mitchell, Wiggins & Co. of Richmond.

Looking Ahead | Top
Innovation has been, and remains, a major focus for the VSCPA. In 2019–2020, that's taking the form of major change in our physical space.  Starting in January 2020, we'll be undergoing a major renovation of the VSCPA Learning & Innovation Center in Glen Allen with the goal of aligning the Center with our strategies. The new space will feature co-working spaces for members (see a rendering above), revamped educational facilities and enhanced technology aimed at helping us empower you to thrive. 
We're continuing to ramp up the Center for Innovation offerings, including new partnerships, and evolving our learning opportunities to best meet member needs, both in terms of subject matter and platform. We're increasing our focus on diversity and inclusion within the profession with the goal of helping more students and professionals gain access to the profession, thereby broadening the talent pool. We'll continue to analyze what skills students need to successfully enter the workforce and continue to educate students on the opportunities available to CPAs and advocate for our members with legislators and regulatory bodies on the issues that affect CPAs most.
Two years ago, we chose "The VSCPA empowers our members to thrive" as our new mission because it best encapsulates our value proposition. We want to be your partner in the success of the CPA profession as it evolves to meet the needs of the business community of the future. That future is both uncertain and incredibly promising, with countless opportunities to help clients and organizations succeed. Thank you for choosing us as your membership organization as we embark into that future together.