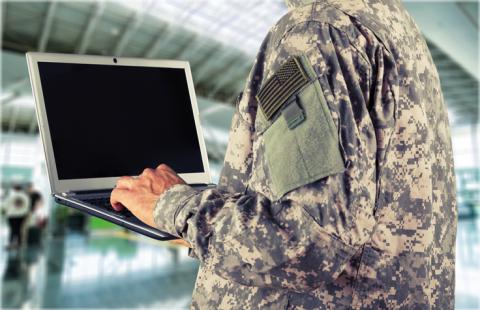 By Kevin Matthews, CPA
What is it to be a veteran and a CPA? What makes military service so different than that from any other job? Is it simply someone who was in the uniformed services but no longer serves? Is the status of a veteran to an ex-military servicemember the same as that of an accountant with an expired CPA license? 
On this Veterans Day, some will spend the 11th day of the 11th month, on the 11th hour , working as they always have; some will have the day off from work in the office. There are many who will attend a Veterans Day parade. Some may watch a movie or documentary about the Battle of the Bulge, the Battle at Khe Sanh or the Battle of the Argonne Forest. Still others will visit grave sites for their regular pilgrimages to visit a fallen loved one. 
In the military, some 20-year-olds have as much responsibility as men and women twice their age. So what comes next? For me and the other veterans I interviewed, the answer was a career in accounting. How have veterans made the transition from military service to the public accounting industry?
From the Military to the CPA Profession
Some people may ask, "How does military service relate to the accounting industry?" CPAs who served have answers.
Shawn Middleton, CPA, an audit supervisor at PBMares, is a U.S. Air Force veteran who served as a cryptologic linguist. Some would call this position a code breaker, but it involves much more than simple code breaking. He said being "a part of a team" and "being dependable," where "the whole is greater than the sum of all its parts," was really what contributed to his current career success. For him, going from cryptology to accounting is not too far of a stretch. "I was looking for an avenue that was concrete — where more technical, hard skills were needed," he said. 
Michelle Okrasinski, CPA, a staff accountant at PBMares, was introduced to accounting during her MBA program, while also serving as a naval flight officer in F-14s and F-18s. Naval flight officers are often referred to as "back seaters" because they do not pilot the plane, but are responsible for the tactical mission of the aircraft. She chose accounting, she said, because "[She] had always been good with math." She also cites her work ethic as a large influence of her success in accounting. 
Finally, Eric Schweizer, CPA, a senior accountant at PBMares, served in the U.S. Navy as a sonar technician on surface ships. Schweizer said his experience in the Navy made him more detail-oriented and really matured him. Many of us were younger and less serious, but time in the service allowed us to appreciate the bigger things in life. Schweizer credits his time on shore duty and getting his education for showing him that becoming a CPA was a good option. 
My personal experience is a little different from most  who transition from the service to accounting. After 9/11, I joined the Navy after earning my master's degree in accounting. I felt an obligation to do my part. Accounting really influenced my career in the Navy; when I earned my naval flight officer's wings and went to serve in my first squadron, I was given jobs in which accounting knowledge was key to success. I started to focus on tax because I was asked to volunteer at a Volunteer Income Tax Assistance (VITA) office. 
How Military Experience Can Prepare CPAs
As we all know, becoming a CPA is not an easy feat. One hundred fifty credits, which usually mean a double bachelor's degree or a master's degree, are usually required. Today, that is easier for a veteran thanks in part to the post-9/11 GI Bill, which makes it easier to go to college and obtain four years of education, and many service members also are encouraged to take college courses while in the military. Middleton and Schweizer took classes while in the service, and Okrasinski was in an MBA program.
My military experience added to my ability to prepare for the CPA Exam. I took it once in 2003 (the last paper exam) and did not pass. I took it again as my military service was ending, and I completed the entire exam on the first try. (Truly, the second try, but the paper exam was so different from the computer exam, perhaps it should not count.)
When many of us think of the career switch, very few think of the accounting industry as an option. Perhaps it is the many years of procedures that wear us down. Others are mistaken into thinking this is a numbers-only profession and ignore the many problem-solving skills this industry needs so badly. 
When I left the military and told others I wanted to go into tax accounting, many were surprised. However, I was the one who was surprised and continue to be surprised today. I have constantly used the problem-solving and research skills I learned in the Navy. Understanding of the hierarchy of importance has come in handy when dealing with tax laws, regulations and court cases. One of my former leaders once said I had the research ability of a tax manager (three levels higher than I was at the time). I attribute that to the preparation the military gave me.
Being a veteran also gives perspective on what being a CPA means. Some accountants I have met will tell me being certified really does not mean anything, or "it's just a piece of paper." I, and many veterans, beg to differ. Veterans have the experience of putting on that extra stripe or rank, where we not only received better pay, but more importantly, extra responsibility. 
It is easy to skip the process of "tying the balance on the statement with the outside source, because it has always been right before." Sometimes there is pressure by the client to put more on the tax return than should be there. Veterans have learned, some of us by experience, the importance of keeping the standard. Being a CPA is really no different. The same public that expects the best from its uniformed servicemembers also expects the best from its Certified Public Accountants. The CPA profession is another form of public service. 
Skill Sets Veterans Bring to the Profession
Veterans take a view of hard work as nothing new and  part the trade. In accounting, 50-60 hour weeks are often required, and for veterans it is "not a big deal to put in a 50-hour week." Twelve-hour shifts were common when I was on operational duty. Personally, I have always looked at tax season with a best-of-both-worlds view. When a squadron goes on deployment, a comradery develops because of the common mission and experiences we all have. I have personally encountered the same sort of feeling in accounting. The downside of serving on deployment is little or no contact with family for six months. In accounting, tax season only lasts four months and we get to go home every night, albeit with early rises and late nights. 
Veterans also bring global experience. Many of us have served in the "sandbox" (the affectionate word we have for the desert kingdoms of the Middle East). While many veterans have combat experience in the desert, there are also many who served in supportive roles. Supply and logistics will destroy an army's chances of winning faster than most weather storms. Some of us have glamorous overseas tours to bring to the firm. Servicemembers have opportunities to relocate and serve in Europe, Asia, Australia and South America . What if you are a small firm and don't have international clients? Global experience allows for greater diversification of ideas and thought processes, which allows accountants to see things from different perspectives. Some of your clients might be from countries in which we served. It breaks the ice at a minimum. 
Veterans bring general management skills to the accounting field. In the service, leadership is taught from the beginning and expected as early as three to four years out of primary school (in the case of officers, it is expected before completing the first week of primary training). That means that servicemembers can be expected to lead as young as 20-years-old in some cases. If a veteran has eight years in the service, that includes more than four years of leadership experience. While this is not an article about leadership, leadership is a skill, just like any other, that requires time to develop. Veterans have spent that time and audit teams with veterans at the helm are likely going to do well. 
What Veterans Day Means to Veteran CPAs
So, since this article is about veterans and Veterans Day, how do veterans feel about the holiday? There are mixed feelings. Some feel we celebrate veterans enough through honoring them with this day. Some wish we did more. Personally, I have mixed feelings because I have family who served in the service as far back as the Revolutionary War. But there is a part of me that does not know what the best way is to honor those who have fallen. Should I volunteer to help veterans more? Should I visit Arlington Cemetery? Perhaps I should toast the men and women who served and sacrificed for me. Every year, I do something different, but I try to reach out to many of my veteran friends and say thank you. 
The Vietnam generation served under the toughest of circumstances. It was an unpopular war, but the members of the Vietnam-era did the best they could under conditions no servicemember should have to endure. The Cold War veterans are not often recognized for their efforts during a time when, at any minute of any day, one side could determine the world's fate. My father served during this time, and his 23 years in the Air Force inspires me to this day. Regardless of where and when they served, all veterans deserve our gratitude and respect.
Schweizer spends some Veterans Days with his family and his father, who is also a Navy veteran. Middleton said it well: "This country is 238 years old, and a lot of blood was shed well before my service. On Veterans Day, I thank those that got us those years, including some of my friends that still serve and pray for many more years of freedom." Who can ask for more than that?
Kevin Matthews, CPA, is CEO of Beta Solutions CPA, LLC in Reston. He served eight years in the U.S. Navy as a naval flight officer, with time in the Middle East and Kosovo. Contact him at kmatthews at betasolutionscpa.com.