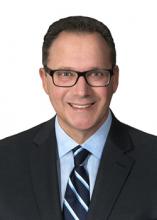 William (Bill) Pirolli, CPA/CFF/PFS, CGMA, is the Vice Chair of the American Institute of CPAs (AICPA).
Over his 40-year career, Pirolli has served in several volunteer roles: the AICPA Board of Directors, the Association of International Certified Professional Accountants (Association) Board of Directors, the AICPA MAP Committee, the AICPA Small Firm Advocacy Committee, AICPA Council, the Association Nominating Committee, the ENGAGE Planning Committee and the AICPA Relations with the Bar Association Committee. He is a Past Chair of the AICPA/PCPS Executive Committee, serving that committee for nine years. Pirolli recently received the AICPA Sustained Contribution Award for 20 years of continued volunteer service to the profession.

Pirolli is a partner at DiSanto Priest & Co, CPAs, a multi-disciplinary accounting and financial services organization in Warwick, RI. He maintains an active client base and focuses on trusted advisor services such as estate and succession planning, mergers and acquisitions, financing and litigation support, as well as traditional tax, accounting and advisory services.

He is past president of the Rhode Island Society of CPAs, where he served on numerous committees during 20 years of volunteer service. He was president of the Central RI Chamber of Commerce and served on the board of The Kent County Mental Health organization.

Pirolli is a frequent local and national speaker on issues related to the future of the CPA profession, firm practice management and future leadership.

Pirolli earned a Bachelor of Arts in business with a concentration in accounting from Bryant University.