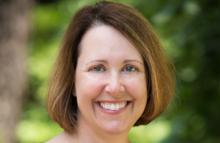 Stephanie R. Peters, CAE, is president & chief executive officer of the Virginia Society of Certified Public Accountants (VSCPA), a statewide professional association for CPAs. She has been with the VSCPA since 1997 and leads the organization on national and state professional issues, legislative and regulatory activities and external relations. As president & CEO, Peters is a member of the VSCPA board of directors and its executive committee. Nationally, Peters serves as Chair of the National Association of State Boards of Accountancy (NASBA) State Society Relations Committee. Peters has served on the American Institute of CPAs (AICPA) Peer Review Board and the AICPA/NASBA Uniform Accountancy Act Committee, and she is a past president of the CPA Society Executives' Association. 
A Certified Association Executive (CAE), Peters served as president of the Virginia Society of Association Executives and has received its CEO Award of Excellence. Peters currently serves as Vice Chair of the Virginia Council on Economic Education. 
Peters received her Bachelor of Arts in history from the University of Virginia and her Master of Public Administration from Virginia Commonwealth University. She is also a graduate of the U.S. Chamber of Commerce Institute for Organization Management and Lead Virginia.