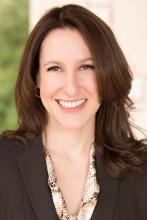 Sarah Elliott, CPA, PCC, is co-founder and principal of Intend2Lead LLC. Sarah believes the future of the accounting profession depends on our capacity to love. Through one-to-one coaching, group learning and leadership program design, she helps accountants access the Dimension of Possible: the place where fear is no longer the enemy.
She is an author, speaker and instructor on coaching and leadership development and an advocate for women in the accounting profession.  
Sarah also founded the Ellivate Alliance to provide women entrepreneurs the inspiration, practical know-how and like-minded community to accelerate their growth. 
Prior to founding Intend2Lead and the Ellivate Alliance, Sarah consistently balanced client service, firm management and industry leadership throughout her career as a practicing CPA. She spent 10 years at PwC, where she performed a two-year rotation in their national office, and retired from her CPA career as the national audit partner-in-charge of a high-growth, regional CPA firm. 
    
In 2019, Sarah was recognized by Practice Ignition as one of the Top 50 Women in Accounting. In 2017, 2018 and 2019 she was recognized by CPA Practice Advisor and AICPA as one of the Most Powerful Women in Accounting.