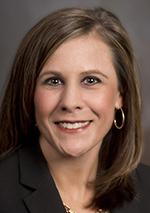 Nadia Rogers, CPA, joined the faculty of Virginia Tech in 2015. She was previously in public practice, most recently a partner of Creedle, Jones & Alga, P.C. Her primary responsibilities within the firm were to direct the firm's Richmond office and to coordinate assurance compliance of the firm as a whole. Prior to joining Creedle, Jones & Alga, P.C., Nadia was a senior manager in KPMG LLP's Audit Practice in Richmond, Va. 
Nadia is the chair of the Virginia Board of Accountancy's Peer Review Oversight Committee. She has also contributed to the accounting profession by performing peer reviews of firms providing accounting and auditing services to their clients in addition to performing reviews that assist firms in preparing for their peer review. Nadia was a speaker regarding the topic of peer review at the following conferences: 41st Annual Accounting and Auditing Conference sponsored by Virginia Tech and the Virginia Society of Certified Public Accountants as well as the Peer Review Oversight Committee Summit sponsored by the National Association of State Boards of Accountancy.  Additionally, she is a member of the American Institute of Certified Public Accountants and the Virginia Society of Certified Public Accountants.  Nadia was also accepted into and participated in the Virginia Society of Certified Public Accountants 2014 Leadership Academy. 
Nadia is a graduate of Virginia Tech, wherein she earned a B.S. with a concentration in accounting and information systems as well as a masters of accountancy. She has authored an accounting article on biometrics in the Information Systems Control Journal, a worldwide publication on IT governance and assurance. 
In addition to her teaching responsibilities at Virginia Tech, she is also the director of the Master of Accounting and Information Systems (MACIS) Program and Advisor of the Accounting Analytics, Audit and Financial Services Options within the MACIS Program.