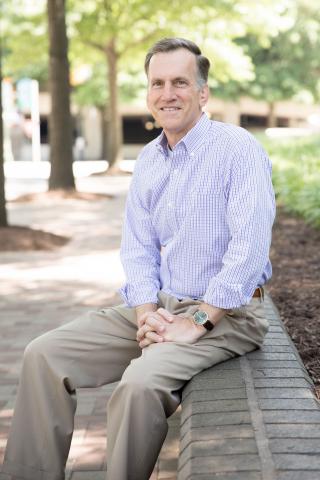 Gary Thomson, CPA, serves as a consultant to CPA and consulting firms in the critical arenas of leadership development, succession planning, partner compensation, succession and leadership planning, leadership coaching, M&A, strategic planning, culture, profitability and innovation. He is also a featured speaker on topics such economic climate, geopolitical issues, ethics reform, leadership, early childhood education, culture and economic development.
Career Experience
Gary began his career in 1985 with an international "Big 8" firm in Atlanta, Ga. In 1989 he returned home to Richmond, Va. and started his own CPA firm.  
Through mergers Gary became part of Dixon Hughes Goodman (DHG), a top 20 CPA and consulting firm. He served as a member of the Senior Leadership and Management Team, as a regional managing partner of the Mid-Atlantic Region and as a member of the firm's Executive Committee. In those capacities Gary had key roles in strategic planning, M&A, growth, profitability, partner compensation, succession planning, talent development, communications, marketing and culture development.  
Pursuing a passion to impact the future of the public accounting profession, Gary launched Thomson Consulting in 2019. Utilizing his range of public accounting knowledge and experience, Gary works with CPA firms, CEOs/managing partners and leadership teams to develop strategies required for CPA firm success. Gary just doesn't know the industry he has lived it.
He currently serves as chair of the Virginia Society of CPAs and as a member of AICPA Council. He was the 2017 recipient of the Virginia Society of CPAs "Outstanding Member" award.
Leadership Experience
Gary has served his industry, the business community and his local community on numerous boards, commissions and task forces. He recently served as chair of the Virginia Chamber of Commerce, a 24,000-member organization devoted to free enterprise, economic development, the overall business climate and regulatory matters. He is a thought leader on public policy issues including recent leadership in the areas of tax reform, Medicaid expansion, early childhood education, tort reform, economic development, ethics in government and public-private partnership efforts.  
Gary serves as chair of Virginia's School Readiness Committee. Other board leadership involvement includes the Virginia Foundation for Independent Colleges, VCU Health Systems Authority, Virginia Business-Education Partnership Program, American Heart Association, Virginia Council on Economic Education, Virginia State University Board of Visitors, Blue Ribbon Commission on Higher Education, Sorensen Institute of Political Leadership, Virginia FREE and others.