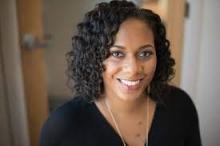 Adrienne is a group facilitator, panel moderator, and community engagement expert.  With a deep experience in building movements in the non-profit, education, and small business sectors, she has centered her efforts around creative approaches and equitable engagement. Her academic training and background in macro level social work, keeps a connection to the wider context as she facilitates.
Having served as a Chief of Staff in Congress, managed projects at various community based organization in urban centers, and leading broad level engagement efforts for diverse school districts — Adrienne's ability to listen, connect and empathize make her a truly unique facilitator. 

Whether she's moderating industry panels on economic change, facilitating discussions around the toughest social issues, or emceeing a virtual fundraiser, Adrienne is ensuring voices are heard and the human perspective is embraced.