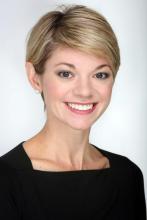 VSCPA member Jill Mitchell, an associate professor of accounting at Northern Virginia Community College (NOVA) in Annandale, has been selected for the 2019 State Council of Higher Education for Virginia (SCHEV) Outstanding Faculty Award. She is the only community college faculty winner for 2019 and the first accounting professor to receive the award in 25 years. She will receive the award at a luncheon March 7 at the Jefferson Hotel in Richmond.
Mitchell, 40, has taught principles of accounting and auditing courses on campus and online since 2008. She began her career with Ernst & Young's Businesses Risk Services practice in Miami. Since starting at NOVA, she has advised more than 300 students on academic and career aspirations and has written recommendation letters for more than 250 students. Click here to view a video on Mitchell's career journey.
"My goal is to open students' eyes to what a career in accounting can do for them, and instill in them the importance of accounting in any business role," she said. "I always tell my students that I hope that one day they will find a job where on Monday mornings, they are excited to jump out of bed and eager to get to work! That is how I feel about being a teacher — it's one the best decisions I have ever made. I found my true professional passion, and it wasn't what I thought it would be."
A South Carolina native, Mitchell earned her bachelor's in management information systems from the University of Georgia's Terry College of Business, graduating magna cum laude. She earned her master's in accountancy from the University of Virginia's McIntire School of Commerce and is set to earn her master's in instructional design technology from George Mason University this spring.
She has served on numerous VSCPA committees and task forces, including a stint on the VSCPA Board of Directors from 2015–2017 and several years on the Educators' Symposium Task Force.