Editor's Note: Aubrey Layne, CPA, served as Virginia Sec. of Finance until July 1, 2021. This profile was written when he was actively in the position.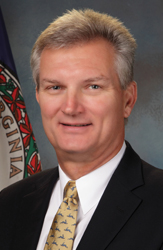 Aubrey Layne's career has spanned from public accounting to private industry to one of the most important roles in the Virginia government. The CPA credential has been the one constant that's guided him through all those reinventions.
Layne currently serves as the Virginia Secretary of Finance under Gov. Ralph Northam, a position he took over after the governor was elected a year ago. Before that, he served Northam's predecessor, Terry McAuliffe, as Secretary of Transportation. The two roles make him the first Virginia public servant in the modern era to hold two different Cabinet positions under two different governors.
Layne spent most of his accounting career in corporate finance, working for a shoe store and a real-estate company, and those roles prepared him well for what Northam asked him to do, which goes well beyond the traditional role of the Secretary of Finance.
"The Secretary of Finance before has traditionally been the person who is ultimately responsible for a balanced budget," Layne said. "That's still going to be a large part of my role, but Gov. Northam has asked me to also assess the risk that's in the budget, like a chief financial officer. My financial and accounting background is critical for that responsibility."
Long before Layne found himself serving as Virginia's de facto CFO, he was a baseball player from Virginia Beach who didn't have any idea what he was going to do as his life's work. He attended the University of Richmond (UR) because the school offered him the opportunity to play baseball. As the first member of his family to attend college, Layne didn't know what to expect or what he was going to do once he graduated — until he took his first accounting course as a sophomore.
"I took this course and I got an A and looked around at the starting salaries, and accountants were the profession with the highest starting salary," he said. "I quickly learned I would not be playing baseball after college, so I decided to be an accounting major."
The decision stuck, and Layne made a key decision as a senior to accept a job from the man who would become his first mentor. The firm was Gary, Stosch & Walls (GSW) in Glen Allen, and the Stosch in the name was Walter Stosch, CPA, who would spend 33 years in the Virginia General Assembly. He helped Layne get his feet under him in the profession and put him in position to accept a Big Four position with KPMG.
Layne spent five years there before moving over to a finance role with a client, Hofheimer's shoe stores. He moved up through several roles in his time there, eventually becoming president after a reorganization triggered by a leveraged buyout.
He spent the next two decades working for another mentor, Edwin Joseph, who had founded the real estate firm Great Atlantic Management, which held apartments down the East Coast from Richmond to Miami. Layne spent 20 years at Great Atlantic, earning his master's in business administration from Old Dominion University in the process, before getting the call from then-Governor Tim Kaine to serve on the Commonwealth Transportation Board (CTB), which allocates roughly $6 billion each year for transportation projects across Virginia.
That role prepared Layne for his tenure as Secretary of Transportation, where he got his first chance to make a real difference in state government by revamping procurement processes – a project that brought him back in touch with Stosch.
"Walter was the patron of the original Public-Private Partnership Act in 1995," he said. "We had to redo it because the assessment of risk was no longer correct, so we put these reforms in. It was cool — I started my career with Walter, then it all came back around and we got to work together again."
The reforms also included a new prioritized process named Smart SCALE, an objective set of criteria Virginia would use to evaluate proposed transportation projects on the criteria of safety, congestion mitigation, accessibility, land use, economic environment, and environmental impact.
"Every project now is rated in the Commonwealth using that scale," Layne said. "That's what the CTB uses in deciding which ones to build. So you put a little bit of objective criteria, not subjective, in deciding how to do this. That's become the standard across the Commonwealth, and the feds have incorporated much of what we're doing here as a model."
Layne's two bosses in the governor's mansion have both been Democrats, while Layne himself identifies as a moderate Republican. He's consistently worked across the aisle in an era that's featured precious little of that spirit. And that bipartisan energy stems from his CPA training and devotion to the ideals of the profession.
"The two things I believe that make good government decisions are transparency in everything that's done — there's very little that shouldn't be in front of the public — and the avoidance of any unethical situation," he said. "I'm bipartisan. I give to campaigns, but for people I believe in. I try to be apolitical, and I think that has been important in both transportation and finance.
"The money committees know that I'm a straight shooter. My job is to say, 'Here's what the numbers are. Here are the consequences.' We can have debates about policy, but we shouldn't have debates about what the numbers are."
That's a direct result of his CPA training that began at UR. The skills he learned at GSW and KPMG informed his career in corporate finance, and the budgeting and risk management acumen he honed in that stage of his career put him in position to succeed in government.
And as Layne learned, even a public servant as accomplished as he is isn't immune to oversight from the Virginia Board of Accountancy (VBOA). He made use of the Active — CPE Exempt license status for some time while serving as Secretary of Transportation and got a surprise when he became Secretary of Finance.
"I became secretary of finance and got a call from [former VBOA Executive Director] Wade Jewell," Layne said. "He says, 'Well, you can't use your CPA.' I said, 'I've paid the $60 every year.' He said that because I was actually supervising tax and treasury, I could no longer be exempt. So I had to go do 120 hours of CPE.
"That was good in this new role. I used it as a refresher to get back up to speed. You wouldn't want me to do your tax return, but I am in good shape for supervising."