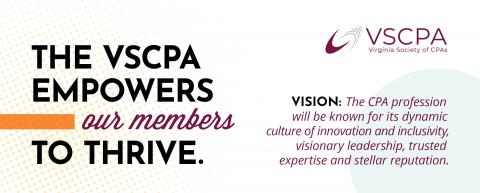 The Virginia Society of Certified Public Accountants (VSCPA) is the leading professional association dedicated to helping Certified Public Accountants (CPA) thrive by communicating information and vision, promoting professionalism and advocating members' interests. The VSCPA mission is to empower our members to thrive.
Founded in 1909, VSCPA membership consists of 13,000 members who actively work in public accounting, private industry, government agencies or at educational institutions.
5 Bold Strategies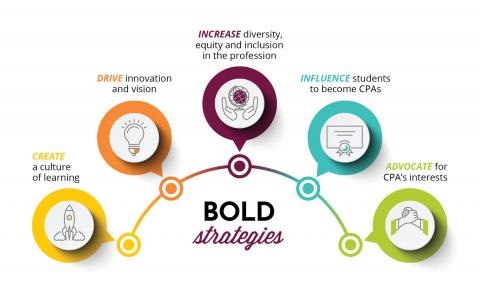 Create a culture of learning.
A thriving profession will require continuous learning, development and growth among all CPAs. The VSCPA is committed to infusing learning into all of our activities to enhance leadership skills and technical competencies of CPAs and elevate their ability to provide the highest value, influence and impact. From reimagining current programming and launching new delivery modes to evolving the physical learning environment, the VSCPA will carve a path for future-forward professional education for our members.
Drive innovation and vision.
Technology and change drive our society, including the business environment, and CPAs must understand and embrace the latest innovations and cultural changes. The VSCPA is committed to empowering members with the knowledge needed to grow their innovative and visionary leadership. The VSCPA will not only help members adapt to rapidly changing technologies and shifting demographics, but also show how to best leverage trends to remain indispensable in the business climate of the future.
Increase diversity, equity and inclusion in the profession.
Having greater diversity, equity and inclusion in the CPA profession is a business imperative for our members' future. The VSCPA will work to increase the number of underrepresented minorities in the profession by creating awareness of the profession among diverse populations and promoting an inclusive culture within the profession.
Influence students to become CPAs.
A strong, diverse pipeline of future CPAs is critical to the profession's success. The VSCPA will support new CPAs by educating and motivating the best and brightest students to make the profession their home. By collaborating with colleges to foster a CPA culture on campus and promoting accounting careers to younger students, the VSCPA will strive to ensure the profession remains viable in a highly competitive global workforce.
Advocate for CPAs' interests.
Complexity, uncertainty and regulatory requirements are often roadblocks to CPAs' success. The VSCPA will advocate for Virginia CPAs in legislative and regulatory arenas, protect their longstanding reputation and provide a unified voice to eliminate unnecessary challenges and barriers.
VSCPA Values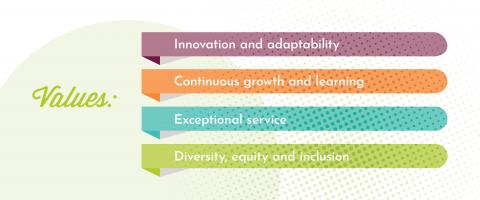 The VSCPA's core values define the organizational culture that we strive to demonstrate in the way we work and the success we hope to achieve. Like all exceptional organizations, our focus is on people. People are at the center of who we are and why we exist. These are the values we live by and what staff, members, customers and others can expect when interacting with the VSCPA.
Innovation and adaptability
Discover solutions, create new ideas and take smart risks that challenge the status quo
Continuous growth and learning
Promote curiosity and a lifelong desire to build future-forward knowledge and skills so we can remain relevant
Exceptional service
Deliver-high value service and ensure a professional, positive experience
Diversity, equity and inclusion
Foster a collaborative, inclusive environment that values, recognizes and reflects a diversity of people, cultures and perspectives