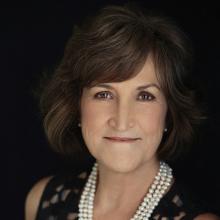 March is Wellness Month at the VSCPA! All month long, we're posting wellness resources and thoughts on the topic from our members. Today's Q&A is with VSCPA member Robin Gordon, CPA, a sole proprietor from Falls Church. 
VSCPA: What was your relationship with wellness as a child? How has it changed since you became an adult?
RG: I was an outside kid who ate what was put in front of me and played outside all day. I knew nothing about wellness. Had no idea what a quiche was until I went to college. Did a lot of Hamburger Helper. Now I would rather die than eat that stuff. I am plant-based now with chicken and salmon and, on occasion, red meat. I do drink red wine and drink a lot of water.
VSCPA: What stresses do you face in your day-to-day job?  
RG: Sitting all the time, dealing with people, trying to understand new tax law, keeping up with technology, managing my time well and billing for it — in short, all the stresses of having your own business.
VSCPA: What techniques do you use to help manage stress?
RG: Mediation and a minimum of one hour of exercise a day, whether it be Pilates, walking, running, cycling, weightlifting. I also take mini breaks and do something else for 10 or 15 minutes like surf Facebook, news, or play Internet hearts. The other thing that is important to me is routine and stopping work at least two hours before going to bed.  And lots of coffee in the morning…
VSCPA: What's your must-have in terms of wellness and fitness during busy season?
RG: I must exercise one hour a day, must mediate, must get eight hours sleep or at least seven. And I must eat well, meaning lots of salad, green vegetables, fruit, chicken and salmon and limit my intake of wine.
VSCPA: How can employers help encourage employee wellness?
RG: This is a tough one. To me, fitness is a mindset you have to have before you appreciate how important it is. What I have seen that works is employers sponsoring group runs and encouraging the office to get out and do them. It is embarrassing when your entire office can run or walk a 5K and you can't. Peer pressure can be very useful here. Just giving gym memberships doesn't work; only those that would go anyway will go. But doing an office 5K, cycling, etc, can be good.