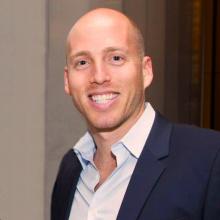 March is Wellness Month at the VSCPA! All month long, we're posting wellness resources and thoughts on the topic from our members. Today's Q&A is with VSCPA member Jason Navon, CPA, CFO at Rossen Landscape in Sterling.
VSCPA: What was your relationship with wellness as a child? How has it changed since you became an adult?
JN: It's always been a primary focus and I had excellent role models. My dad is extremely active — working out every morning and taking the stairs (instead of the elevator) whenever possible. He clearly inherited this from his mother, my Oma (German for grandmother), who encouraged me to exercise. My mom has always impressed healthy eating upon my sisters and me — eating out and added sugar was limited growing up.
This focus on living a healthy lifestyle continued into adulthood for me and evolved over time and as I learned more about optimal health. It's not all about diet and exercise. Complete wellness should also address hydration, sleep, stress management, community, etc.
VSCPA: What stresses do you face in your day-to-day job?
JN: All the normal challenges — time scarcity, business problem-solving, coaching my team, managing inter-personal relationships, balancing personal obligations, etc.
VSCPA: What techniques do you use to help manage stress?
JN: Invoking the timeless tradition of comparing business to sports, I do view stress management like an athlete conditioning for sport. If I'm hydrated, properly fueled, well-rested, and in the right frame of mind (exercise helps with that), the challenges do not feel as daunting. My body's response is appropriate for the stimulus and not exaggerated because I'm deficient in one of the areas previously mentioned.
Two other important stress management techniques for me are my productivity system (based on the book Getting Things Done by David Allen — life-changing!) and breathing exercises (using the InnerBalance app).  Having a comprehensive productivity system for managing all the inputs from my environment (i.e., workflow from emails, meetings, calls on various devices and in multiple locations), I can have confidence/peace of mind that nothing will be missed and everything will be handled in the right way at the right time.
Additionally, intentional breathing is a strategy for resetting your body's reaction to stress. Sometimes we don't even notice the physical reactions of our body to stress (e.g., racing heart, holding our breath, etc.). It's amazing what five minutes of breathing can do to calm your body and keep the challenge in perspective. I'm not yet into meditation — breathing exercises feel more tangible, measurable to me — but I do love this quote:  "You should meditate for five minutes daily.  If you don't have time for that, then you should meditate for 30 minutes daily." It effectively reiterates that it's easy to neglect/dismiss the things that are most important!
VSCPA: What's your must-have in terms of wellness and fitness during busy season?
JN: Everything previously mentioned!  Ideally, nothing is sacrificed. However, I feel one of the most important things is the support of my family and friends. A lot of stress comes from the expectations we/others put on ourselves/us. Having proactive conversations to set expectations and/or communicate what support we'll need during our busier times or during a time of particular stress can greatly relieve some pressure. Of course, you do this with the understanding that you'll return the favor when the circumstances are reversed!
VSCPA: How can employers help encourage employee wellness?
JN: Just like most cases, the best way to encourage a behavior is to model it! Set the tone and the right example for your team to emulate. Additionally, if you're going to provide food at the office, put out fruit and healthy snacks in the break room instead of chips and cookies.  Pizza is quick, cheap, and easy, but the consequences are costly. Cater your busy season meals with more nutritious and energizing foods. Start a fitness committee that schedules weekly or monthly group exercise sessions. At my company, we have bikes if anyone wants to have a rolling meeting instead of sitting in the office while talking. I've also taken team members to SoulCycle for a motivational coaching session.  Have conversations about wellness.  Annually, I lead a pre-growing season meeting to ensure we're ready for the change of pace in our business each spring. We cover strategies that are both professional and personal in nature to have success during this time...like a team preparing for a playoff run.