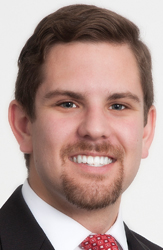 March just ended, but we've got one more Wellness Q&A left over with Brandon Pope, CPA, a business and advisory services supervisor at Keiter in Glen Allen and a member of the VSCPA Young Professionals Advisory Council.
VSCPA: What was your relationship with wellness as a child? 
BP: I always was an active child who loved being outdoors and spent most of my time after school on the trampoline or playing sports. However, my diet was largely concentrated on southern home cooking, which, while delicious, may not have been the most diverse. 
VSCPA: How has it changed since you became an adult?
BP: I've learned that wellness is earned and not given. I've come to find that everyone's individual wellness is a reflection of the time and effort dedicated to working out and eating healthy, as well as their workload circumstances. My diet has become much more diverse and I focus on limiting unhealthy treats to just the occasional splurge. I also try to be diligent with prioritizing my wellness in the work-life balance. 
VSCPA: What stresses do you face in your day-to-day job? 
BP: Most of my day-to-day stresses revolve around managing project expectations and deadlines, as well as maintaining frequent and professional communications with clients and coworkers.
VSCPA: What techniques do you use to help manage stress? 
BP: Staying organized is a must. Properly prioritizing projects/deadlines and communicating those to coworkers helps promote efficiency and ensures everyone is on the same page, which can help reduce confusion and consequently, stress. Even though a routine is not always possible, trying to always make time each week to work out and find an outlet for blowing off steam helps reduce stress. Finding time to be with loved ones and enjoy personal time is essential, too. Once a week, I try to ensure a happy hour and dinner with my fiancé, which helps manage stress for both of us. 
VSCPA: What's your must-have in terms of wellness and fitness during busy season?
BP: Flexibility to build in time for exercise is a must-have!
VSCPA: How can employers help encourage employee wellness?
BP: Wellness doesn't look the same for everyone, so providing various options for employees is the best encouragement.  That can look like bringing in a "bootcamp" trainer, yoga sessions, scheduled group walks or blocked time for personal exercise preferences.