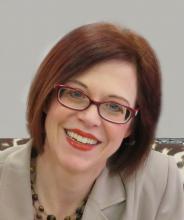 March is Wellness Month at the VSCPA! All month long, we're posting wellness resources and thoughts on the topic from our members. Today's Q&A is with VSCPA member Ann Butler, CPA, director of finance at Hoover & Strong in North Chesterfield.
VSCPA: What was your relationship with wellness as a child? How has it changed since you became an adult? 
AB: I was overweight as a child, so I wasn't athletic at all. I became interested in fitness, wellness and healthy eating as a teenager for two reasons. I wanted to lose some weight and I developed a rare illness with no cure. If I wanted to live a long and healthy life, I knew it was up to me to make my body the best it could be and I needed to take care of myself. Those early healthy habits became a lifestyle that I have maintain throughout my entire adult life.
VSCPA: What stresses do you face in your day-to-day job? 
AB: As an accountant in industry, I face deadlines and multiple demands daily so I am under constant stress.
VSCPA: What techniques do you use to help manage stress? 
AB: I love to read.  I take the time to read fiction daily. I like to have two minutes of silence at the end of the day to clear my mind. I have, also, used fitness as a way to manage my stress levels throughout my entire accounting career.  
VSCPA: What's your must-have in terms of wellness and fitness during busy season? 
AB: I usually go to the gym six days out of seven. I do various cardio and strength training sessions and classes throughout the week. The variety is great for my body and it keeps it new and exciting so I don't get bored. If I start my day in the gym, I always seem to have a better day at the office.
VSCPA: How can employers help encourage employee wellness?
AB: Knowledge is power. I recommend employers make health and wellness resources available to employees through a company-sponsored wellness program. While it is an additional cost to employers, the benefits of having healthy and mentally well employees result in longer-term cost savings through lower medical claims and less health and wellness related absences. In addition, employers should look for ways to support the community through charities related to health and wellness.