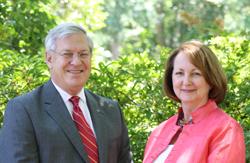 A Big Four partner and an executive at a small firm. One spent his entire career in the field; the other moonlights in academia. VSCPA members Larry Samuel, CPA (left), and Dian Calderone, CPA, brought different experiences to the Virginia Board of Accountancy (VBOA), but both attacked their assignments with the same sort of professional vigor. 
Samuel, a former board chairman, and Calderone, both former board chairs (with Samuel chairing the board twice), wrapped up their terms on the VBOA at the June 26 meeting, where they were honored by their colleagues and other representatives of the profession.
"The VBOA regulates over 24,000 CPAs in Virginia and 1,200 firms," Calderone said. "It is imperative that the makeup of the board represent those they regulate. We were fortunate over my eight years on the board to have small, medium and large firms represented, as well as industry and education. The issues of each of these are unique and need to be considered in the decisions of the board."
Samuel echoed his colleague's thoughts, making reference to his own varied career experiences and the perspective they brought.
"My Big Four experience definitely broadened my experience and was a tremendous help in dealing with BOA issues," he said. "... However, I believe it was my total career experience which was so invaluable.  Prior to college, I had worked in private company accounting reporting to the CFO; during my public accounting career I worked at both large international accounting firms as well as a smaller firm (Gary, Stosch, Walls & Co.). Even my Army experience as a military policeman added to the wide variety of skills needed to address the diversity of matters which come before the VBOA."
Where They Came From
Samuel is a retired partner with Deloitte, where he served as professional practice director for the firm's Greater Washington audit practice. He earned his bachelor's degree from Virginia Commonwealth University (VCU) and his graduate degree from Northwestern University's Kellogg Graduate School of Management.
Samuel has served on multiple professional boards in addition to the VBOA, including the American Institute of CPAs' (AICPA) Board of Examiners. He served as chair of the VSCPA Board of Directors in 2000–2001.
Calderone earned her bachelor's degree from Christopher Newport University (CNU) and a master's degree in taxation from Old Dominion University (ODU), and she has served as an adjunct professor at both schools. She specializes in taxation, consulting and litigation support as vice president at Hunt & Calderone, PC, in Newport News.
She was named the VSCPA's inaugural Outstanding Member in 2010 and has also been honored by CNU and the Virginia Peninsula Chamber of Commerce. She has served on several committees with the VSCPA and the National Association of State Boards of Accountancy (NASBA).
Improved Regulations
Both members cited the comprehensive rewrite of the Virginia accounting statutes and regulations as one of their proudest achievements from their tenure, along with the launch of the VBOA's new website. Calderone also said she was proud of the establishment of the Education Committee, which develops the outline for Virginia's annual Ethics course.
Samuel and Calderone also mentioned the VBOA's reorganization as a major success. Samuel says the pair is leaving the board in good hands under Executive Director Wade Jewell, who was hired in 2009.
"Having outstanding day-to-day leadership at the VBOA cannot be underestimated," Samuel said.
While the board's last reorganization went well, Samuel cautioned against the potential to cut costs by combining the VBOA with other state agencies.
"The biggest challenge the VBOA faces is the potential risk of attempts to consolidate the VBOA with other state agencies under the premise that it will be more efficient and reduce costs," he said. "This would be a mistake, and as we have observed in other states which have consolidated agencies, the quality and level of service to CPAs goes down, the effectiveness of compliance and enforcement declines and costs increase."
Calderone performed a great deal of outreach during her term as a member of the NASBA Enforcement Practices Committee, which reviews the enforcement policies of all the states' boards of accountancy and compiles best practices.
"By reviewing what other states are doing in the areas of publication of violations, fines, consent orders and administrative processes, I was able to compare Virginia enforcement processes and refine them," she said. "Fortunately, Virginia is one of the model states and many of our enforcement practices were incorporated into the manual."
Samuel echoed Calderone's words in his remarks at his final meeting, saying the VBOA "shouldn't just do what's right. We need to set an example for other boards and agencies and be that shining light on the hill, and I think we've done that."
An Accomplished Tenure
Calderone and Samuel served the VBOA with distinction throughout their time on the board, helping to stabilize the VSCPA's relationship with the VBOA and the board itself. The VSCPA salutes Dian Calderone and Larry Samuel for their distinguished service to the VBOA and the profession, just as Samuel saluted the board at his final meeting:
"I don't think I've ever served on a board with a greater group of people. I'm very proud of what this group collectively has accomplished. The experience and expertise on this board, you couldn't buy it. You couldn't afford the rates."