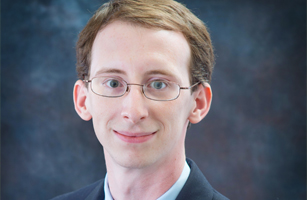 November is Government & Nonprofit Month at the VSCPA! Here's our latest profile of one of our members who works in the nonprofit arena: Evan Wrinkle, CPA, staff accountant with WellsColeman in Richmond. Evan prepares tax returns for nonprofit organizations as part of his job and also serves as treasurer for the United Spinal Association of Virginia and secretary for the VSCPA's Richmond Chapter. Here's what he had to say about his work with nonprofits:
VSCPA: What do you like about working with nonprofits, both from an accounting perspective and otherwise?
EW: The people who work for nonprofit organizations tend to have a lot of passion for what they do. It's refreshing to work with people who are so in tune with the purpose of the organization they help operate!
VSCPA: What are the specific challenges that come with nonprofit accounting?
EW: Nonprofit organizations need to have an excellent recordkeeping system for their donations and how they spend their money. For example, the contributions from each donor over the year needs to be tracked so that accurate annual contribution acknowledgements can be provided to the contributors. Additionally, some contributions and grants have restrictions on when or how they can be used, requiring careful tracking to avoid violating the restrictions.
VSCPA: What are the biggest financial issues facing the nonprofit sector today?
EW: The Tax Cuts and Jobs Act of 2017 made many fundamental changes to how taxes are calculated for individuals, including an increased standard deduction and lower tax rates. Many people are worried that these changes will disincentivize charitable contributions in coming years.
VSCPA: How can CPAs help nonprofits achieve their missions?
EW: The tax filing requirements for nonprofit organizations can be very complex. This is compounded by the fact that their tax returns are open to public inspection and are often used by donors to determine whether to give money to an organization. A CPA with experience assisting nonprofit organizations can help prepare a tax return that both satisfies the IRS's requirements and is enticing to donors.