February is diversity month at the VSCPA, and the VSCPA is spending the entire month spotlighting the contributions of our diverse membership. Our next spotlight member is LaToya Jordan, CPA, audit director at the Virginia Auditor of Public Accounts in Richmond. She has also worked at the Virginia Department of the Treasury and is a member of the VSCPA's Young Professionals Advisory Council.
VSCPA: What led you to the accounting profession?
LaToya Jordan: I gravitated towards math early on in school, so I knew I wanted to join a profession where I could utilize my love for math. When I had the opportunity to take an accounting course as an elective in high school, that solidified which direction I would go, and I truly never second-guessed that decision.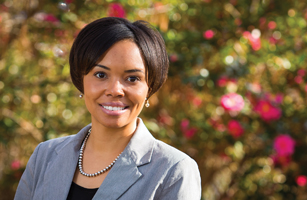 VSCPA: What do you find most fulfilling about your career?
LJ: I work in an organization where we have a lot of young professionals who join our agency directly upon graduating college. Over the years, I have been able to mentor many of them, sharing all aspects of my journey thus far. Being able to see them blossom and grow professionally has quickly grown to be one of the most fulfilling parts of my career.
VSCPA:  Who are the role models and mentors have helped you the most in your life? In your career? 
LJ: In my life, I would have to say my mom and sister. My mom is an assistant controller in Charlotte, N.C., and part of my attraction to the accounting profession was based on my exposure to jobs she has held over her life. My sister is a very successful human resources professional, and she has always pushed and motivated me to strive for greatness in everything I do. Continually witnessing her professional triumphs pushes me to be the best LaToya I can be. In my career, I have had two incredible bosses that have both had a hand in shaping who I am today. These two wonderful ladies never let me get comfortable with where I was, providing honest feedback when I solicited it and even when I did not.
VSCPA: How can the accounting performance ensure a diverse workforce in the future?
LJ: To ensure a diverse workforce in the accounting profession, recruitment and education efforts have to begin early. Exposing teenagers of all backgrounds to the accounting profession will provide insight to all the opportunities available to them, if they pursue a career in accounting. When I think about my own journey, having the accounting course in high school and being exposed to individuals that were successful accountants allowed me to see at an early age all that could be achieved by pursuing an accounting degree.