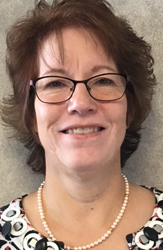 June is Corporate Finance Month at the VSCPA! We'll be spotlighting our corporate finance members all month long and highlighting the value they bring to their organizations. Our first spotlight member is Theresa Welenteychik, CPA, controller at the David R. McGeorge Car Co. in Richmond. Here's what Theresa had to say about her career in corporate finance.
VSCPA: What led you to the accounting profession?
TW: I was always good at math. After high school, I went to college to study in a STEM field. It turned out not to be my calling. I knew I wanted and needed a college degree, but stumbled a little during my freshman year.
I, however, had a mentor. I was a "little sister" to the best "big sister" anyone could ever have. I was introduced to Cathy at the age of nine after my mom signed me up with the Big Brothers/Big Sisters organization. During the summer of my freshman year of college, she told me about accounting. She was a NASA engineer, but knew that an accounting degree could take me places and set me up to be "very employable." She was right.
I loved accounting in college. It just clicked — it had to balance; now that made sense!  
After graduation, I followed my friends to the Virginia Auditor of Public Accounts (APA). I wasn't sure what I wanted to do with my degree, but I knew some smart people at college and if it made sense for them, then maybe I should try it. I knew I wanted and needed my CPA to progress in my career so I took it right after graduation. Back in those days, you had to take all four parts at once. I didn't pass, but I knew I could — and Cathy taught me to never give up! I did pass all four parts the next time I took the Exam.
VSCPA: Why did you decide to pursue a position in corporate finance instead of public accounting?
TW: The APA required quite a bit of travel, but not the fun kind … driving and living out of the trunk of my car. I wanted to see the world.  So I decided to apply for a position at a Swiss company with a local presence. I got the job – it was at a manufacturing facility. I learned so much and loved watching things being made. I met another mentor, the controller. He guided me and pushed me to pursue an advanced degree. I got my MBA. He taught me much and slipped my name to the corporate folks. I was going to see the world after all. I was offered a position in Switzerland, but at the same time my mom got sick. I choose to stay home. The local plant closed shortly after.
With that experience under my belt, I got a regional controller position with a French company with a local presence. I got to go to France and Canada regularly! Then along came my children. That sure did change my world. I no longer wanted to travel, so I took a controller position with another manufacturer. It closed seven years later.
VSCPA: What led you to the controller position?
TW: Today I find myself at yet another fun and rewarding job. I am the controller of a car dealership group. It is the hardest accounting I have ever done. I may not have the title of CFO, but I have a lot of the duties. I manage the corporate accounting and finance functions. It was a natural progression as I wanted to use my MBA, love for leadership, forward thinking, and sales and operational-minded skills to be a change agent and to make a difference.
A corporate finance professional has to not only be good at the accounting, but also have great relationships with operations, sales, banking, insurance, IT and HR. I get to touch every aspect of the business and think strategically.
 
VSCPA: What are the most important skills to be an effective corporate finance professional? What non-accounting skills are important for a corporate finance professional or CFO?
TW: That is an easy question to answer, but a hard skill to develop … soft people skills. I work with all levels of the organization, whether it is training the service techs and cashiers on the new time clock system all the way up to negotiating large lines of credit or contacts. I must be effective in my communication with which the people I work. I must find common ground and set up win-win situations. I must continue to learn both in accounting and finance, but also leadership, management, marketing, sales, trends, change management, negotiating and technology.
VSCPA: What are the main benefits a quality CFO brings to a company?
TW: A quality CFO brings clarity, strategic and analytical skills to a company. With the right soft skills to build and develop relationships, hold people accountable while pushing (sometimes pulling) people and processes to be better today than we were yesterday, the CFO will help drive the organization to attains its short-term and long-term goals.