While we can't say this definitively, it's the VSCPA's guess that only one of the many new breweries in Virginia is CPA-owned. (If there are more, please drop us a line — we'd love to hear about them.) While Debbie Moeller, CPA, is a senior associate at Brown, Edwards & Co. in Roanoke, she's also keeping busy outside of her day job, doubling as the finance director of Flying Mouse Brewery, the Troutville-based operation she runs with her husband, Frank, and family friend John Garrett. (Frank's brother, Chris, and friend Jim Trexel are also partners.)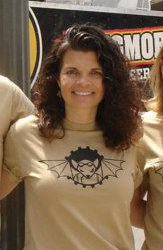 "I'm an anomaly in this neck of the woods," she said. "Most of the brewers that we know, their backgrounds are vastly different than my husband's and mine. They seem a lot more laid-back about stuff than my husband and I are. We're stressed out about this all the time — why aren't you stressed out?"
Unlike Debbie, Frank Moeller quit his day job to focus on his beer dreams. A mechanical engineer by trade, he had been brewing at home for nearly a decade and had taken a course online to become a master brewer.
Once their children were old enough, Debbie and Frank decided to give the brewery dream another shot. As it turned out, they were far from the only people with their idea.
"Before we dove into all this, my husband and I spent a lot of time researching other breweries and the growth market and trends in the craft beer industry. We put together a really detailed business plan and started talking to banks," she said. "At the time, the only brewery in Roanoke that was up and operating was Roanoke Railhouse, so it was sort of twofold. It was good because we were going to be new and different and not just a one-craft-beer town, but there were several other breweries in the works thinking the same thing that we didn't really know about. The banks were nervous because it was an unknown business, but little did they know that there were several other breweries that were about to open their doors."
The Moellers got their loan (as did a bunch of their competitors — Debbie rattled off no fewer than six other startup breweries in the Roanoke area). They found the space they needed at the old Architectural Concrete Products building and bought it on a foreclosure. The next step was to retrofit the property for brewing, with some modifications that could save them money in the long run.
"It's got its own wells on site, so we don't have to worry about using county water and sewer services," Debbie said. "We had to put in our own effluent system for the brewing process, because you use a lot of water when you brew. This way, we could actually take the used brewing water and, through an effluent system, put it back into the ground. It's regenerating the water that we're using."
Flying Mouse officially opened its doors in September 2013 and stuck to serving patrons in its tap room for its first 18 months of existence. Befitting the no-nonsense nature of the CPA and engineering professions, the beers don't have crazy names, just numbers that mark lighter beers (lower numbers) and darker beers (higher numbers). The Moellers started packaging their beer in March 2015, but you'll have to go to the tap room to get anything other than their 4 (a smooth hop India pale ale) and 8 (a session porter).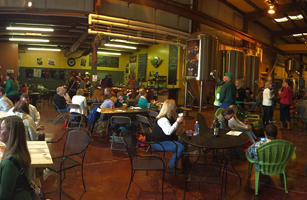 "One thing that my husband tries to focus on is not going over the top on anything," Debbie said. "You can go out and have a beer that's basically a one-and-done. Either it's so hoppy that you can't have more than one, or it's too sweet. What he specializes in are session-style beers."
In addition to drinkability, the Moellers can also hang their hat on a marketable name. Chris Moeller is a graphic designer who works as the brewery's creative director, and the brothers grew up as huge superhero fans — particularly Batman. That obsession, in a roundabout way, led to their opera-themed name and mascot, Bartleby Hopsworth.
"He wanted to have an iconic logo that would stand out that was bat-related," Debbie said. "He couldn't come up with a good bat name, but bat in German is fledermaus, which, translated back into English, is 'flying mouse.'"
Debbie has spent her entire career in public accounting, so Flying Mouse is her first stab at bookkeeping. She's also had to deal with the regulations and taxes specific to the alcohol industry.  Her work in that area has created an unlikely niche for her within Brown Edwards.
"Every once in a while, I'll get an email from somebody in one of the other offices that says 'We're looking at maybe proposing on this particular brewery or distillery. Do you think you could help? You know the ins and outs of these rules,'" she said. "We're talking about forming an accounting niche area to serve all of these places, which I find amusing because I had to teach myself all of this."