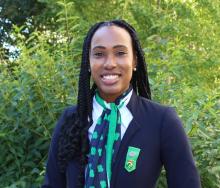 Jessica McClain, CPA, CISA, PMP, CITP, CGFM, is currently CFO of the Girl Scout Council of the Nation's Capital in Washington, D.C. Before transitioning to the nonprofit industry, she spent 11 years in public accounting, performing and overseeing financial and information technology audits. She received her undergraduate degree from Towson University and graduate degree from George Washington University. 
Jessica is passionate about the accounting profession. She serves on several American Institute of Certified Public Accountants (AICPA) volunteer committees, is an AICPA Council member-at-large, and is a graduate of the AICPA Leadership Academy. In addition to being a VSCPA member, she is also involved with the Maryland Association of CPAs and the Greater Washington Society of CPAs.   
I am passionate about… Helping women and people of color in the accounting profession achieve their definition of success.    
If I weren't an accountant, I would be… A world traveler. Our world has so many amazing places to visit, and I want to see as many of them as I can.   
My advice to fellow CPAs is… Get comfortable with being uncomfortable. I have a poster in my office that says, "Great things never come from comfort zones."   
I never leave home without… A positive attitude and confidence.   
I'm a CPA because… The trust, prestige and respect that CPAs command in the accounting profession.   
How my life changed because of the pandemic… The pandemic made me appreciate my time with loved ones. It was an opportunity to re-evaluate my priorities to redefine what was important to me. As a result, I have a new norm of what matters to me.   
In my free time… I love spending time with my family and friends, traveling, reading and volunteering.   
The most important thing to me is… My family and me. I work hard and put in 110% every day for us.