Randy Shapiro, CPA, is in something of a unique position entering his term as chair of the VSCPA Educational Foundation. Shapiro has sat on all three VSCPA boards — the Society and Educational Foundation Boards of Directors and the VSCPA Political Action Committee (VSCPA PAC) Board of Trustees — but he's never been a VSCPA chair until now.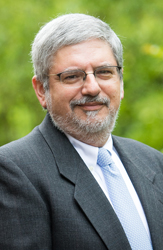 In addition to that wealth of board experience, Shapiro is also well-versed in raising money for the Foundation. He's managing principal at Falls Church firm MJW (Murray, Jonson, White & Associates), which established a Foundation scholarship in 2009 as part of its 50th anniversary celebration.
"We decided, as a firm, to go out to our clients in celebration of our 50th anniversary and raise $50,000 in celebration," Shapiro said. "Not knowing how successful we would be, the partners decided to fund the difference. As it turned out, we had a great experience and raised roughly $75,000 within a matter of months. It was a really good outpouring from our clients."
One of Shapiro's major goals as Foundation chair is to oversee an uptick in firm giving, and he also wants to get the board together in the same room more often instead of relying on phone calls. But it's also a learning experience for him as he adjusts to his first chair experience.
"I've been chair or president of different volunteer groups, and I think until you're the actual leader, you can sit back, even as a vice chair, and not have the full responsibility," he said. "Since busy season has ended, I realize that it's here and I need to get my thoughts together and really produce and take a leadership role."
Shapiro has a wealth of experience as a VSCPA volunteer, moving onto the Society board in part because of his term as president of the VSCPA's Northern Chapter. It's part of the culture he inherited and tries to maintain at MJW, where firm founder Carl Jonson also served as chapter president.
He has tried to carry on that tradition by encouraging younger employees to get involved with the VSCPA and other industry groups.
"I've encouraged people at my firm," he said. "One of my newer partners went through the Northern Chapter and was recently president. Trying to get younger people involved, that's the way to do it — have the firm support it and have firm leaders committed to giving people the time and the resources to do it."
Shapiro got involved with the VSCPA soon after graduating from the University of Virginia' McIntire School of Commerce. His favorite benefit from his extensive volunteer work, both with the VSCPA and outside of it, is the connections he's made with colleagues across the Commonwealth.
"One of the things that I think I find is the networking and knowing people in the profession," he said. "You don't do all your networking to try to get clients. It's networking to know people and be friends with associates.
"If I walk into a leadership conference, I'll probably know a third of the people there and have crossed paths with them. On a professional level, I feel free and comfortable calling people throughout the state. It's that camaraderie of knowing people."
One of the Foundation's main objectives is to protect the pipeline into the accounting profession. Shapiro aims to fulfill that mission by helping students defray the cost of education — something he says became more important when the 150-hour requirement to sit for the CPA Exam went into effect — and by emphasizing the diverse array of options within the profession.
"It's a job that gets you talking to people, working with people," he said. "You're not the guy in the green eyeshade working with numbers. You're out there working with people, consulting and helping."