By Cheryl Hyder, CPA
Principal, Hyder Consulting, Fairfax
This year my husband and I participated in a 160-mile bike ride to benefit the National Multiple Sclerosis Society over CPA Day of Service weekend. We typically participate in a "watershed clean-up" event around the same time as the annual Day of Service, but I've never connected the two because our mindset is there needn't be a single day or week to give back to one's community.
So how did I decide to participate in this year's MS-160, and why that event?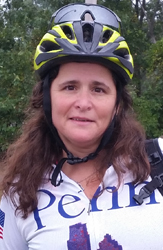 It's been 12 years since we last participated in a long-distance charity ride; in fact, the last time we rode, prior to this year, I was just under three months pregnant with our oldest child and the ride was "only" 150 miles long (175 with the "bonus" miles, which we completed). We opted to come out of charity-ride retirement this year to celebrate each of us turning 50 with relatively good health, and also to set an example for our kids.
To back up a bit, I've always been an outdoor sports enthusiast. Both my husband and I were cyclists before we met, me as more of a wandering weekend rider and he as a superlatively dedicated one. I had a pretty horrible bicycle wreck about a year before he and I met, which left my spinal cord partially severed — I had no feeling in my legs, and walking was an adventure. I was still living in southern New Jersey at the time, and eventually, my cycling injury led me to the University of Pennsylvania's neurosurgery team. Penn's team determined I needed to replace the lower half of my spine with titanium or I'd never be able to lead a normal life again — no walking, no hiking, no biking. I had the surgery, and one year later I participated in my first distance bicycle ride, a 150-mile ride, to prove to myself and any anyone else paying attention that all was well again in my world. We joined the University of Pennsylvania's MS-150 bike team, in gratitude for their great work in patching me up.
Which brings the question, why support the MS Society? There are many organizations sponsoring many long-distance charity bike rides. Why this one? And yes, it's true — there are, and we could choose one with a lower registration fee. We could also choose a shorter ride that would require less of a training commitment. But this is the distance ride we've committed to supporting. I lost a cousin to MS. Her progression was slow and steady and her frustration over her body's betrayal and her determination to maintain her dignity and quality of life was clear. For more than 20 years, my husband had to sit idly by and watch a close coworker come into the office after being diagnosed. First, he would walk in with a smile, then one day he walked in with a cane. Then the cane gave way to a walker, and eventually, the walker became a wheelchair — manual and then electric. And then he couldn't work anymore.
Knowing that we couldn't directly help people we cared about was frustrating. So, we ride because we can, for everybody with a family member or friend who has been diagnosed and is fighting to live a normal life. The BikeMS organization stages rides nationwide which, according to their website, "raises more money than any other cycling event for any other cause. To date, Bike MS cyclists "have raised more than $1 billion so people with MS can live their best lives." Simply put, the proceeds from this ride will support that mission to live one's best life, for others coming after my cousin and his co-worker. And so we ride for them.
My understanding is there were nearly 8,000 riders this year — 400 on our team alone. We faced some weather-related challenges on Day 1, but Day 2 gave us beautiful clear skies. We met our combined goal of raising $4,000 (in recognition of the 400,000 active MS cases in the US currently); and I need to thank VSCPA's Connect community for affording a platform to solicit contributions to this cause, and to those who helped us meet our goal. The riders this year included many folks diagnosed with MS, and at least one Paralympic athlete. In years past, we've shared our road space with a 90-year old woman we did not see this year. And we are looking forward to riding again, in 2017, also and still for the University of Pennsylvania team. Because we can.