Member Thoughts: Finding Your Passion
By April Cassada, CPA/CITP, CISA
Director, Data Analysis, Virginia Auditor of Public Accounts, Richmond
Gallup polls have continually shown the millennial generation to be the "job-hopping" generation, switching jobs every three years. Having started my career with the Virginia Auditor of Public Accounts (APA), and celebrating 13 years with them this past May, I am not a part of that statistic. My dad's famous saying while I was growing up was, "Go to school. Get a Job. Make money." It never felt like a choice to me. I picked the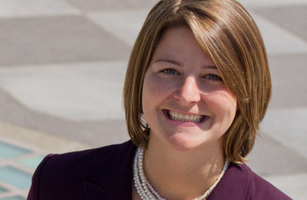 first college I visited, took the first job offer I received, and never really thought twice. I wanted what every upcoming college graduate wants — a job. I used to say I got lucky and fell into my passion — but one day, someone corrected me and said "Luck is where opportunity meets preparation." I'll never forget that.
I didn't know it at the time but preparing was exactly what I was doing: going to college, finding a job, taking my CPA and doing the best I could at my job. The opportunity came when my boss at the time resigned. I was one of two on our team who possessed the CPA, a requirement to be a team leader. I interviewed for the position and made sure to put the team first. The team was part of what was becoming my passion and I wanted to ensure that as I was moving forward, the team was too. I got the position and I began to embrace every part of it. I was finding my passion and putting it first.
Where did I find my passion? The APA is the independent, external auditor of the states executive and judicial branches. A few of our "clients" that you may encounter include VDOT, the DMV, ABC, Virginia Lottery, VT, and U.Va. — yes, we love acronyms. In the simplest terms, we make sure the checkbooks are controlled properly and that our clients are releasing accurate information to the public. As both a project manager and the Data Analysis specialty team leader, my job is to supervise audits, perform data analytics and issue reports on our work. While this may sound straightforward, it is hard to capture the diversity of my work in just a few words. On any given day, I can be found coding in SQL, watching a lottery draw, reviewing payroll records, or even meeting with a legislator about an important issue they would like us to address.
No matter what I am doing on a particular day, I always go home feeling like my work is important: important to the legislature, important to the citizens, important to state agencies and important to my staff. Working at APA is what shaped my passion. Public service is a passion of mine, but it is only one piece of the equation that allows me to honestly say, "I have found my passion." The rest of my equation includes creating positive change, developing myself and those around me, and being a dynamic presence in my family. For me, my goal in working has never been to make millions of dollars; instead, the key to finding my passion has been to find an environment that allows me to keep my equation balanced, despite the constant fluctuation in variables.
I often wonder if the job-hopping done by the millennials is because they have yet to find their passion. Whether you are a millennial, or any other generation, don't wait too long to find your passion.