Editor's Note: This is part of a series of profiles highlighting the diverse interests and careers of VSCPA members. Know a member (including yourself) who would make for an interesting profile? Email VSCPA Communications Manager Chip Knighton.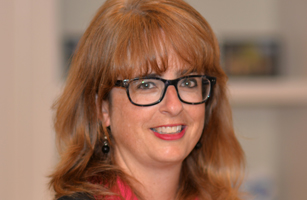 When Laurie Warwick, CPA, hits the ground running at the Virginia Board of Accountancy (VBOA), she'll be charged with representing the Big Four perspective in Board dealings. Fortunately, she's got 20 years of expertise to back her up.
Warwick, 42, is executive director at Ernst & Young (EY) in the firm's McLean office, where she's worked since 2002. Before that, she was an audit manager at another member of what was then the Big Six, Arthur Andersen.
The move to EY wasn't entirely a planned one, coming on the heels of Andersen's bankruptcy and its role in the Enron accounting scandal, and it necessitated a shift in specialty from her previous focus on nonprofits, as EY didn't have a presence in that field. But Warwick made the best of her situation.
"When I came over as a manager, I had to find new advocates," she said. "I wanted to align myself with the Ernst & Young legacy partners and form new relationships with these partners. I wanted to find what was active in the market, and at the time, EY was proposing on many private equity clients, so that became an industry I was very active in."
Warwick reinvented herself as something of a jack of all trades, working with the health care, hospitality and benefit plan industries in addition to her work in private equity and venture capital. That broad base made her a natural fit to represent the Big Four at the VBOA.
That's not the only reason EY leadership approached her with the VBOA opportunity. She's focused on quality initiatives throughout her career, taking ownership of internal and external quality inspections at EY and training initiatives for accounting and auditing methodology.
Another way to help increase quality in the profession is for mentors to work closely with young CPAs, and Warwick has taken a leadership role in that regard, too. She's an executive sponsor in EY's professional women's network, which runs different learning and networking initiatives aimed at supporting women and keeping them at the firm as they progress through their careers.
"Our tagline at EY is 'Building a better working world"," she said. "Making things better deals with the teaching and mentoring aspects, helping other professionals and peers where they need help. I find that personally rewarding."
After graduating from the University of Richmond's Robins School of Business in 1995, Warwick interviewed with firms in Richmond and Washington, with a focus on the Big Six.
"I thought, as an accounting major, that a job at the Big Six was a thing to dream for," she said. "That's what was in my vision, as far as trying to land the best job coming out of school that I could."
She chose Arthur Andersen for its "inclusive and open" atmosphere and spent seven years at the firm focusing on the nonprofit industry. Then, in 2002, the Enron scandal broke, and Warwick and her coworkers needed to find new jobs.
Fortunately, she didn't have to start from scratch. Different Andersen practices wound up moving to different firms, and the assurance practice wound up at EY.
"We didn't have to interview. It was just a transaction," Warwick said. "You left work at one office and started at the next."
Warwick, a native of Eatontown, N.J., has embraced life in Northern Virginia with her husband and two sons. She's an avid runner, and the family loves boating and spends almost every weekend on the Chesapeake Bay.
While those are her personal interests, quality has been her main focus in her professional life. She's looking forward to helping drive that vision from her new opportunity at the VBOA while continuing to make a difference at her own firm.
"I like developing people professionally and trying to make the processes at EY a little better than they were yesterday," she said. "It's just trying to leave your footprint, your legacy, and trying to make things better."