Editor's Note: This is part of a series of profiles highlighting the diverse interests and careers of VSCPA members. Know a member (including yourself) who would make for an interesting profile? Email VSCPA Communications Specialist Chip Knighton.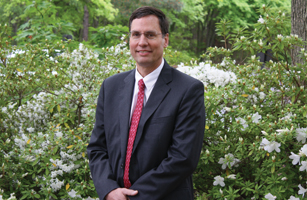 Integrity and transparency. That's what attracted Jim Shepherd, CPA, to the accounting profession. That's what led him to change his company's name, removing his own from the title in the process. And that's what he'll focus on as the 2013–2014 chair of the VSCPA Board of Directors.
Shepherd, 59, replaces John Montoro, CPA, as the leader of Virginia's CPAs. But he admired the profession and the credential long before he ever got involved with the VSCPA.
"When I was working with people in the business community, I quickly learned that there were certain people that I really admired the most as far as integrity and the things that they were trying to do in business," he said. "And those were Certified Public Accountants."
It's that integrity that led Shepherd to run his financial planning firm, Verus Financial Partners in Richmond, on a fee-only basis. To him, that setup was the best way to ensure the firm remained focused on the financial well-being of its clients.
"It didn't take me long to figure out that I didn't want to be working on the commission side," he said. "I gave up all my licenses a long, long time ago and went fee-only. I thought that by having that relationship, I wasn't beholden to any company or any institutions out there. I could truly sit across the table from a client, figure out what was in their best interest and charge appropriately instead of trying to figure out how you could structure somebody's relationship to be within the constraints of somebody else's environment."
Even the name of the firm reflects Shepherd's focus on the client. The firm was known as Kuehl, Shepherd, Kozlowski & Associates before a merger brought in several new clients. For simplicity's sake — Shepherd jokes about the averted possibility of working for Kuehl, Shepherd, Kozlowski, Hoppe, Waitman and Lagos — the partners chose Verus, Latin for "truth."
"We looked around at different names and Verus just seemed to fit us pretty well," Shepherd said. "It was a good, simple name. And 'Financial Partners' — we always talk with our clients about having a relationship where we are partners with them. There's good and there's bad and there's ups and downs in the economy. We want to have a relationship where we can always sit down and focus on the good and the bad and have those great discussions."
Shepherd started out in the VSCPA as a student member — he earned his bachelor's degree from Virginia Tech and his accounting certificate from Virginia Commonwealth University (VCU), going to night school while working full-time and getting in time with two young daughters. One of those daughters, Stephanie, now heads up the technology department at Verus.
From his student membership, Shepherd got involved in the VSCPA's Richmond chapter and then the Society at large. He drew inspiration from several CPAs he met through the Society — he cites former board chairs Elsie Rose, CPA, Monique Valentine, CPA, and Jamie Walker, CPA, in particular — and the fact that many of the VSCPA's initiatives dovetailed nicely with his own interests.
"When I got involved in the Virginia Society, I could see the great things that they were doing, and that really helped me to realize that there was a whole other world where you could truly make a difference in this profession," he said. "One of the things I always strive to do is to try to set standards in this profession for financial planning and really try to make sure that financial planning is being held at that high standard. The Virginia Society had been doing that all along from the CPA side. It was great to be able to plug into it."
Shepherd met his wife, Theresa, around the same time he started out in the accounting industry. That's the one area where his strict devotion to the truth may have wavered just a bit — he met her on a trip to her native Colorado and helped sell her on Virginia by playing up the Commonwealth's "big mountains."  But she stuck with him despite the local mountains lack of size compared to the Rockies, and they now have two daughters and one young granddaughter.
"To this day, we always go back to Colorado in the summertime to see the bigger mountains out there," Shepherd said.