Editor's Note: This is part of a series of profiles highlighting the diverse interests and careers of VSCPA members. Know a member (including yourself) who would make for an interesting profile? Email VSCPA Communications Manager Chip Knighton.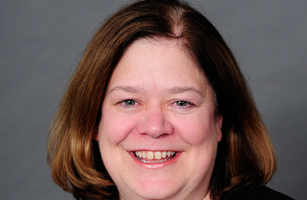 When Nancy Miller, CPA, finds something she's interested in, she jumps in with both feet. At one point, it was work with the VSCPA; at another point, it was motherhood. Now she's devoted herself to what she calls "the best job in the world."
Miller started out in the audit field at smaller firms in Fredericksburg and Northern Virginia. But a chance look at the American Institute of CPAs (AICPA) website changed the trajectory of her career and gave her a great deal of influence in areas that affect every CPA's career — independence, professional conduct and peer review.
"I was on the Peer Review Committee for the Society at the time, and I'd been on various committees at the society level," she said. "So for giggles, I filled out this thing at the AICPA, not thinking anything would come of it."
Fifteen years later, Miller is an executive director in risk management — independence in KPMG's Washington office. She's also had an influential volunteer career with the VSCPA and the AICPA, where she has served on the Technical Standards Subcommittee (TNS) of the Professional Ethics Enforcement Committee (PEEC) and the Practice Monitoring Task Force (PMTF). She also got involved with the U.S. Governmental Accountability Office (GAO) and participated in the development of the 2011 Yellow Book on government audits.
One thing that has become clear to her over the years is that no problem is too insignificant to be worth solving.
"Some of these technical issues, I know people who would roll their eyes and say it's all splitting hairs and placing commas," she said. "But over the years, I've been rewarded so much for that service."
Miller's passion for volunteering first manifested itself shortly after she graduated from George Mason University in 1982. She accepted a job in the Fredericksburg office of Richmond firm Derieux, Baker, Thompson & Witt at a time when the VSCPA was looking to expand its presence in that area of the state.
"There were originally only four chapters," she said, "and I was in Fredericksburg, which was equidistant between Richmond and Northern Virginia. No one wanted to go to either place for chapter meetings, so that was how the Battlefield Chapter got started."
Miller worked her way through the Battlefield Chapter offices, serving as president in 1994–95, before moving to Alexandria to work for Pannell, Kerr, Forster. She returned to Fredericksburg when she had her first child, working for what became the Miller Foley Group, where she worked for nearly 20 years before joining KPMG.
She quickly moved past chapter leadership, too, joining the VSCPA's Peer Review and Professional Ethics committees and eventually chairing the latter.
"I get very pointed comments made that I over-volunteer," she said. "And to some degree, I've always been that way. If I really were to look at my motivation and the satisfaction I've gotten — and I can tell you that my volunteer service has been unbelievably, without a doubt, one of the best things I've done — it's plain curiosity.
"I like being involved. I like hearing about stuff. And I've found that I really deeply enjoy technical matters."
And she happened to get involved at the AICPA during a turbulent time for the accounting profession. Her work on the Technical Standards Subcommittee meant that she dealt with a lot of violations of U.S. Generally Accepted Accounting Practices (GAAP) and Generally Accepted Auditing Standards (GAAS) violations, which came to the forefront during the accounting scandals of the early 2000s.
"That was right when Enron was blowing up," she said. "You had dozens of very major accounting scandals involving revenue recognition and the collapse of the dotcom market."
Those issues led to several significant changes during Miller's tenure, including notable peer review changes and the creation of the Government Audit Quality Center. But to Miller, the relationships and professional contacts she's made are as rewarding as the results of her hard work.
"When you get into these roles, you tend to find that you're working with people who are like-minded," she said. "So from a rewards standpoint, the collegial aspects of being able to talk through very complicated, difficult issues is really profoundly satisfying to me."
And her volunteer activity led to her current job and an unprecedented feeling of professional fulfillment.
"I would never have gotten this job without that volunteer work, in lots of ways," she said. "It wasn't my paid resume that was my skill set that got me this job. It was the work I did at AICPA and GAO that drove that, along with my secondary network of colleagues I acquired through this role.
"I basically completely reinvented my career 15 months ago. I ended a long career as a managing partner at a small public accounting firm, left the little world and moved up to the great big world. The networking relationships that I have as a result of my professional involvement, both through the Virginia Society and the AICPA — there is no doubt in my mind that fundamentally, that put me on the path to be able to do what I'm doing today, which is the best job in the world."