Editor's Note: This is part of a series of profiles highlighting the diverse interests and careers of VSCPA members. Know a member (including yourself) who would make for an interesting profile? Email VSCPA Communications Manager Chip Knighton.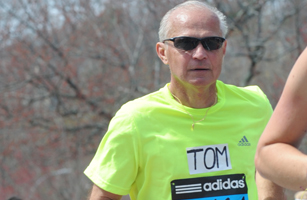 Running took VSCPA member Tom Visotsky, CPA, to a spot in the New Jersey high school record books. Then it took him within minutes of one of the country's highest-profile recent tragedies. Now he'll square off against the nation's best performers in the sport he loves.
In a random drawing last week, Visotsky was selected as the Dash for the Cash participant in the Monument Avenue 10k, set for March 28 in Richmond. Visotsky will get a head start on the course based on his time in last year's race, and if he can cross the finish line first, he'll get a $2,500 prize. Of course, with the race scheduled for one month after his 63rd birthday, that means he'll have to outrun elite competitors less than half his age.
"I hope not to be looking back," Visotsky said. "Considering that the professional runners will be running somewhere in the vicinity of 4:30 a mile, they'll be closing quickly."
The Midlothian resident finished the race in 46 minutes, 16 seconds last year, and he estimates that will leave him with around four miles to run. His competition will be the fastest runners in college track and field, as the Monument Avenue 10k partnered with the fledgling Collegiate Running Association two years ago, agreeing to serve as the group's national championship.
Adding to the challenge is that his body isn't exactly cooperating. He suffered an Achilles tendon injury last fall that kept him from running for several months and sent him to an orthopedic surgeon to get the go-ahead to race next month.
"I needed some assurance that if I did any damage to the Achilles, it could be repaired," he said. "I am good to go. I'm not pain-free, but I'm good to go."
Growing up in New Jersey, Visotsky played baseball and basketball as a child, but set those sports aside once he joined the track team as a half miler at Saddle Brook High School. He worked to get his time down under two minutes and anchored a half-mile relay team that set a state indoor record.
Then life got in the way. After graduating from American University, Visotsky set about building an accounting career that saw him become president and managing director of staffing firm ACSYS/Don Richard Associates (as well as president of the VSCPA Board of Directors in 1997–1998). He and his wife, Rhonda, had a son and a daughter, eating into his free time even more.
As often happens, it was an illness that put him back out on the road. A friend from First Baptist Church, where he serves as finance/business manager, came down with leukemia, and Visotsky decided to run a half marathon to raise money. He ended up raising more than $10,000 over the course of three events, and he also fell back in love with the sport.
The cancer-related aspect of the 10k is also personal for Visotsky. Rhonda is a cancer survivor, coming up on five years free of cancer in June, and he plans on capitalizing on his unique position to raise money for Virginia Commonwealth University's Massey Cancer Center, the race's official charitable fundraising partner. You can donate to his personal fundraiser page here.
While raising money is a major plus, it's not why Visotsky runs. The challenge and physical training are the main draws for him, so once he got into the marathon groove, he set his sights on the queen of American marathons: Boston. He's run the race four times, including a brush with tragedy in 2013, when terrorists set off a bomb near the finish line, killing three people.
"I had a very good race," Visotsky said, "to the point where I had re-qualified for the next year by five and a half minutes. It was my best Boston by far, as far as the race. The bomb went off 19 minutes after I'd finished.
"I was three blocks away, in the finishing area, still on Boylston Street. My wife was a block and a half away in the family meeting area waiting for me. When the bomb went off, all I had to do was turn my head to the left and see the big cloud of smoke."
The slogan "Boston Strong" arose from the response to the bombing, and Visotsky went back for the fourth time in 2014 to see just what that meant.
"The crowds up there are normally tremendous," he said. "But this past year, which is where every serious runner wanted to be on that day, there were over a million people lining the streets. People would literally scream your name from across the street as you put on your bib. It was absolutely incredible.
"Everybody was just determined to take back the race, the streets, and say that terrorism was not going to change our way of life. You hear about things that will bring goose bumps to your arms, and this was the kind of thing that did it."
Visotsky's hard work to prepare for that emotional race might wind up hurting him in the Dash for the Cash. Runners must re-qualify each year to run the Boston Marathon, and he was at the peak of his powers when he posted the time that will determine how much of a head start he'll have next month.
"When I ran the time last year, I was peaking for Boston. I was literally in top shape," he said. "Now, after four months of basically not running, I have four weeks to get back in peak position. It's a real challenge to know how hard I can push and not aggravate the injury, but know that I have to push myself to get in peak condition after seven weeks."
But running has helped Visotsky turn back the clock in recent years. So he's running through the pain, pushing himself to shave seconds off his splits in preparation for his moment in the spotlight.
"It's not supposed to work this way, but most every year, despite adding a year of age, I've been able to get faster," he said. "It won't last forever, but it's nice to challenge myself and be able to produce faster times year after year."