Editor's Note: This is part of a series of profiles highlighting the diverse interests and careers of VSCPA members. Know a member (including yourself) who would make for an interesting profile? Email VSCPA Communications Manager Chip Knighton.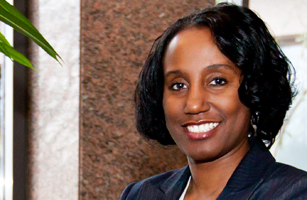 You'd be hard-pressed to find two industries more different than the financial sector and early childhood education. But VSCPA member Laura Tate-Smith, CPA, made a seamless move from one to the other and fulfilled a lifelong dream in the process.
Tate-Smith — who is in her second year as a member of the VSCPA Educational Foundation Board of Directors — is CFO at Minnieland Academy, a regional childcare center and preschool based in Woodbridge. She was familiar with the school through sending her sons there, and she wanted to be a CFO because of the amount of responsibility it entails.
"Once you reach the CFO position, your exposure is very broad," she said. "That has always appealed to me. I always want to see the big picture, what I'm doing in accounting or finance and how that translates over to the operations area or information technology or human resources. I always wanted to be a CFO, and it's the broadness of the position that appeals to me."
Tate-Smith, an Alabama native, originally got her bachelor's degree in finance from the University of Alabama, where she met her husband, who is recently retired from the U.S. Army. Knowing she would be moving frequently with his postings, she got her master's in accounting from Columbus State University in Georgia, followed by her CPA license, in order to make herself more marketable for future employers.
"Not only does it let your prospective employer know that you have a certain aptitude for your subject matter, but it opens up a lot of possibilities," she said. "There are a lot of CFOs who don't have a certification, but a lot of people, when they're looking at it, they're expecting some sort of certification that comes with it. It opens up a lot of doors for you."
Before joining her current employer, Tate-Smith worked mostly with financial institutions — "Banks, credit unions, mortgage companies, large and small," as she puts it. Her first exposure to Minnieland came when she first moved to Northern Virginia and toured childcare facilities for her sons.
Neither she nor her husband knew much about the area, and they didn't have family and friends to give recommendations. They were impressed with Minnieland and elected to put their children there, and four years ago, when the CFO position came open, Tate-Smith threw her hat into the ring.
The shift in in industries came with a learning curve, but many of the core competencies for the position came naturally to her.
"A lot of experience I gained working in financial institutions, I've been able to apply here," she said. "It's a fairly large corporation. They have debt that needs to be managed. They have relationships with financial institutions. They have treasury functions that need to be managed. All of that, I was able to translate over."
And while she now thinks she could have had a similar career with a sole focus on finance, her accounting education has paid off immeasurably in terms of career success.
"I always thought of finance as being able to take the financial statements and analyze them," Tate-Smith said. "The accounting function has helped me to realize where all this information is coming from, how it's put together, how it's being recorded.
"Even though you get some of that being in finance, you don't get as broad a perspective of it. You have a sense of how your financial statements are put together, but what it helped me to realize is the whole process from soup to nuts. I understand how the statements are put together and what assumptions were used to put them together, which helps me analyze exactly what needs to be done."
That includes not only what needs to be done, but how quickly it can be done.
"Even if you're preparing for a contract or long-term leases, if you're trying to implement a new product or process, all of that has a financial impact," Tate-Smith said. "If you have a strong CFO who is partnering with those functional areas, you don't have to wait until the financial statements are released to find out what the impact will be. It brings that information to the forefront. You know whether or not you should continue down a path or reassess."
​