Editor's Note: This is part of a series of profiles highlighting the diverse interests and careers of VSCPA members. Know a member (including yourself) who would make for an interesting profile? Email VSCPA Communications Manager Chip Knighton.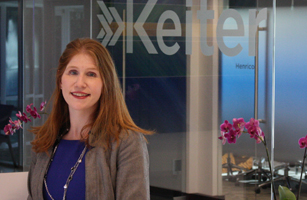 There are people out there who are lucky enough to find a job or a professional niche that checks all of their career boxes. Julie Gustavsson, CPA, CITP, is one of them.
Gustavsson, 36, is partner and chief operating officer at Glen Allen firm Keiter, where she runs the firm's day-to-day operations, including finance, recruiting, human resources, marketing, learning and development, and information technology (IT) operations. The last of those responsibilities has been especially rewarding.
The Harrisonburg native grew up surrounded by technology, an interest sparked by her father, Hugh Hobson, a business and finance professor at James Madison University. Career research in high school clued her in to the burgeoning growth of technology in the accounting industry, leading her to major in accounting information systems at Virginia Tech.
"I grew up with a dad who was into sci-fi and all things technology," she said. "We had one of the first IBM computers that you could buy. I think he probably spent as much on that computer as our first car. I remember playing Pong. We had every Atari, every Nintendo known to man growing up. "
Gustavsson started her career at the Virginia Auditor of Public Accounts in Richmond before moving exclusively into information technology as a software consultant with the unfortunately named IT firm Isis. It was around that time when she was introduced to Keiter partner Ted Gary, CPA, who was looking for a business software analyst. Gustavsson got that job, got her CPA license and the rest, as they say, was history.
"Ted Gary was very passionate about this idea about technology partnering with business," Gustavsson said. "Not necessarily running it, but having a partnership where it's not an afterthought, it's something you invest in. That spoke to me, because so often at so many firms, it is considered nothing more than an expense line item, that necessary evil that no one wants to spend money on, so you've got the computer that's 15 years old that you're having to kick to get it to reboot. Keiter was definitely not that."
Gustavsson strives to keep Keiter on the leading edge of technology. Those efforts are buoyed by an organizational philosophy she cherishes — that it's better to try and fail than to stick with the status quo. Recently, those efforts have included a successful push to go paperless, digital signatures and scanning of information directly into tax returns.
Those advances led to her being one of 19 young CPAs honored with the American Institute of CPAs' (AICPA) inaugural Standing Ovation award, recognizing young CPAs holding the Certified Information Technology Professional (CITP) credential who have innovated in various areas. Gustavsson was honored for her work in the Information Management and Technology Assurance (IMTA) area.
Information management and security is a passion for Gustavsson, and she strives to push Keiter's limits and identify weaknesses before more nefarious actors can. Her team engages third parties to attempt to get into their systems — all part of  the firm's effort to protect data as effectively and thoroughly as possible.
"At the end of the day, what we have is our reputation," she said. "If we were to be hacked or if information were to slip out of our firm, that would destroy the reputation that we have for keeping your information safe and our clients' information safe."
Gustavsson also ensures that Keiter is proactive in educating its clients about cybersecurity risks and the necessity of having a comprehensive IT disaster recovery plan. Keiter also offers advisory services in the technology field.
Gustavsson first read about CPAs' job security and earning potential from a Wall Street Journal article in high school. Her specialty degree allowed her to gain experience in both the accounting and IT fields early in her career, and that combination has allowed her to rise quickly through the Keiter ranks, becoming partner in just 10 years.
"Knowing both languages and being that middle person is just going to continue to grow," she said. "It's hard to bridge that gap between the business that maybe doesn't understand the IT and the IT that doesn't understand the business. If you can be that collaborator, you can write your ticket."
That's especially true at Keiter, where Gustavsson found the freedom she didn't know she was seeking. Ted Gary's philosophy turned out to be exactly the career catalyst she needed.
"They said, 'Come up with good ideas, hustle and work hard, and you're going to see your ideas come to fruition,'" she said. "Darn if that didn't actually happen."
And it all dates back to a chance introduction a decade ago.
"It was something that I had not been looking for," Gustavsson said. "I had really enjoyed being in IT consulting, having my own clients and working with them. But when the opportunity came up, I thought, 'This is an amazing opportunity.' It's the first time I ever interviewed somewhere where I got back in my car, called my husband and said, 'If I don't get this, I feel like I'm missing out.'"
She added: "I've heard companies say that as they grow bigger, it's harder to bob and weave, it's harder to be entrepreneurial. But that spirit is still absolutely alive here. You have an idea? Go work it and we'll support you and allow you to do that and see what happens."