Editor's Note: This is part of a series of profiles highlighting the diverse interests and careers of VSCPA members. Know a member (including yourself) who would make for an interesting profile? Email VSCPA Communications Manager Chip Knighton.
Financial literacy has been a national focal point for the CPA profession for the past decade, and in Virginia, few VSCPA members have been as active in that movement as Phil Umansky, CPA.
Umansky retired from his professorship at Virginia Union University (VUU) in Richmond last year after a 30-year career in accounting education.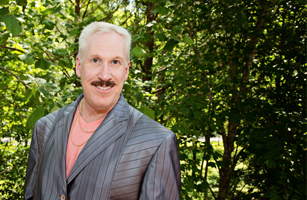 But he's still using his influence to help educate Virginians about the importance of financial literacy after joining the VSCPA's Financial Fitness program in 2008, a pivotal time for personal finance in the United States due to the recession that started that year.
The economy has recovered since then, but Umansky still sees financial literacy as a major area of concern for Americans.
"In general, people aren't saving enough," he said. 'People are living longer and are concerned about their retirement. It's like we want everything. We want to buy everything, but don't necessarily have the money to buy everything. It's about creating priorities, and quite frankly, families really are strapped nowadays. There really is a need.""
Umansky's first financial literacy work with the VSCPA came in the form of television appearances on Virginia This Morning on CBS 6 in Richmond. He followed that up by writing some financial literacy articles and continued to build his reputation as a financial fitness expert through personal appearances and presentations.
The live presentations and TV appearances were a natural fit for Umansky, drawing on his experience in public speaking as a professor at VUU and an adjunct at other Richmond-area colleges. He's continued to work in that arena for the VSCPA, averaging about one TV interview per month since 2008 along with his presentations for the VSCPA, including You Can Afford College workshops in Richmond and Roanoke.
"I like communicating through speaking," he said. "I was never somebody who liked to write books or be too scholarly."
Umansky grew up in the Southwest Virginia community of Pulaski before attending Virginia Tech. He started his career at what was then the Big Eight firm of Coopers & Lybrand (now PricewaterhouseCoopers), working in Lynchburg and Richmond for that firm and several membership associations before deciding to pursue education as a career.
"I always enjoyed education," he said. "I thoroughly enjoyed my Ph.D. program, my master's program. I always loved ideas. I loved reading and thinking about things and ideas.
"I liked helping people in their careers. I really love young people. And I really enjoyed the pace of communicating and checking and making sure they were learning the material."
He obtained his doctorate at Virginia Commonwealth University and spent some time as an adjunct professor at J. Sargeant Reynolds Community College and Randolph-Macon College before getting his first full-time professorship opportunity at VUU. He loved the fit at the school's Northside Richmond campus and spent the rest of his career there, even bringing his wife, Carol, onboard as a part-time professor.
The two met in 1996 through a Richmond dating service and quickly realized they were a good match. They were both tall, highly educated and good with numbers — Carol, a VSCPA associate member, had spent 25 years working for Travelers Insurance, primarily as a regional controller in receivable management.
"She wanted somebody who was educated. She put down a lawyer or an educator as a match," Phil said.
After she retired from Travelers, Phil convinced Carol to return to work at VUU teaching freshman orientation, accounting and general business classes, with some tutoring on the side. Last year, they retired at the same time and have spent their time traveling, working with their church (Woodlake United Methodist in Chesterfield County) and Belmont Food Pantry, as well as exercising, gardening, reading and volunteering in the financial literacy field.
That means a lot of presentations and TV appearances through the VSCPA, as well as like-minded organizations like Junior Achievement and the Virginia Council of Economic Education. They had an assignment at Douglas Freeman High School last week, but their favorite volunteer opportunities tend to involve working with younger students in elementary school.
"We've had some very good teachers who have really given us very good students," Phil said.