Editor's Note: This is part of a series of profiles highlighting the diverse interests and careers of VSCPA members. Know a member (including yourself) who would make for an interesting profile? Email VSCPA Communications Manager Chip Knighton.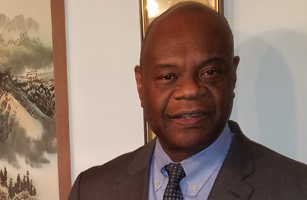 Nishon R. Evans, CPA, CGMA, is used to moving around, both personally and professionally. But he's found a home, a community and a cause in Northern Virginia.
Evans, a former VSCPA Board of Directors member, is a senior principal analyst at General Dynamics, a Herndon information technology firm that serves the government, defense and commercial sectors. He's bounced around numerous employers in his career — a normal career path in Northern Virginia, where positions with government and defense contractors are often short-term by design — but he's stayed in the area since moving from Texas in 1994.
"The unique thing about this area is that for someone in my field, there's always work with different contractors," he said. "You just move around from contract to contract."
That's nothing new for Evans, who grew up in a military family and lived in Florida, North Carolina, New Jersey, Illinois, the Philippines, and Germany before settling in Detroit. With the Vietnam War in full swing, he enlisted in the U.S. Air Force after graduating, spending six years and getting his bachelor's degree in business management along the way from the University of Maryland University College, which had a campus in Japan, where he was stationed at the time.
He also capitalized on military benefits to earn his bachelor's degree in accounting from the University of Houston, leading to the career he'd pictured since he was a child.
"I was always interested in numbers and dollars, how to control them, how to save them and spend them," he said. "It was always an interest of mine. Starting in high school, I took more business and accounting courses and majored in business and accounting in college. It was always something I wanted to do."
Evans grew up and began his accounting career in a very different world than the one he currently occupies. His time abroad in his childhood gave him a different perspective on the way he and his fellow African-Americans were treated.
"When I was growing up, if you were African-American in the States, you were treated differently than you were overseas," he said. "Being overseas in places like the Philippines and Germany, you were accepted better than you were in the states. They still had the laws here in the States about segregation. When we came back to visit or to live, it was a very noticeable difference."
That extended to the accounting landscape when he began his career with Seatrain Lines as Accounts Receivable Representative in Houston.
"In those days, there were very few opportunities with a lot of firms if you were African-American," he said. "That was an area you didn't typically see us in. You would see us as accounts payable, accounts receivable, clerks, but as a manager, that wasn't often seen."
At the time, one way for African-Americans to move up in the accounting ranks was to work for black-owned CPA firms or businesses. While there's still progress to be made, opportunities in the rest of the accounting world are now easier to come by.
"I can see the improvement," Evans said. "In general, even outside accounting, over time, there was more acceptance of equal opportunity. Just as time and generations have passed, things have started opening up.
"I imagine some predominantly white firms started bringing in more African-American students as interns and saw that we can do the same work as anybody else. But it was a gradual change that led to more and better opportunities."
The need for further improvement in diversity is one reason Evans is so involved in the profession. In addition to his Board service, he's served on several VSCPA task forces, largely in the industry and nonprofit arenas, and has remained heavily involved in the VSCPA's Northern Chapter since cycling off the Board in 2012.
He's also active in the National Association of Black Accountants (NABA), and currently serves on the board of directors for the Northern Virginia Delta Education and Community Service Foundation, a nonprofit that offers scholarships to African-American students majoring in science, technology, engineering and math (STEM) disciplines. Evans and his wife, Pat, serve on the board of the Kennedy Center for the Performing Arts in Washington "I learned from early on to get involved and stay involved with groups like NABA, the VSCPA and our local chapter here," Evans said. "You stay involved. You understand what's going on. It's a good feeling to help someone, whether it's mentoring, sharing ideas or just being involved."