Editor's Note: This is part of a series of profiles highlighting the diverse interests and careers of VSCPA members. Know a member (including yourself) who would make for an interesting profile? Email VSCPA Communications Specialist Chip Knighton.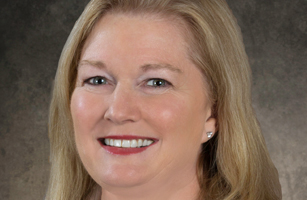 VSCPA member Andrea Kilmer, CPA, is no longer the chair of the Virginia Board of Accountancy (VBOA). Don't think that means she'll be taking it easy.
Fellow Society member Barclay Bradshaw, CPA, took over as chair July 1, but Kilmer slid back into her previous role on the VBOA's Enforcement Committee. And in addition to her public service, she's got a much bigger role in her day job, with a major project to go with it.
Kilmer recently took over as president and CEO at Virginia Beach real estate consortium ESG Companies when former president Eddie Garcia retired. She's jumping in with both feet — ESG is currently working on a $300 million, 18,000-seat arena in Virginia Beach that will be the biggest arena in the state and the country's first privately owned arena without a major-league sports team as a tenant.
With that major project on her plate, it's a good thing Kilmer is going back to a familiar role with the VBOA. She'll be second in command on Enforcement, with fellow Tidewater CPA (and VSCPA member) Stephanie Saunders serving as chair. The committee's task — dealing with complaints leveled against Virginia CPAs — is an extremely important one to Saunders and Kilmer.
"I do take it extremely seriously," Kilmer said, "because this is someone's livelihood. It's someone's license that's at stake, or their ability to pursue the profession. If someone has unlicensed activity, they need to understand exactly what they can and can't do."
Kilmer went onto Enforcement upon joining the VBOA in 2010 and was struck by the workload the committee dealt with in protecting Virginia's taxpayers.
"I had to initially put it in perspective and say 'Out of 26,000 licensees, we're getting this many cases a year, and the percentage is pretty small,'" she said. "We had some egregious cases, and as [former VBOA chair] Larry Samuel used to say, 'I don't think CPAs wake up in the morning thinking about how they can do something wrong.'
"Enforcement made me aware of how I felt about how the economic environment in the United States was affecting CPAs. CPAs had lost their employment opportunities. They've lost their position because of what's happening in the economy, so they're hanging a shingle and opening a small shop. A lot of the issues I've seen are what I'd call 'managerial issues.' A lot of CPAs are great with numbers, but not as good with managing their practice."
As a CPA working in industry — she was Chief Financial Officer (CFO) of ESG when she was first appointed — Kilmer brought a unique perspective to the board. Her work to represent her colleagues in industry was most evident in the evolution of the Virginia-specific Ethics course.
"The Ethics course was very geared toward ethical behavior and issues arising for people that are in the public accounting realm and not in industry. I thought it was an opportunity," she said. "When you're in industry, you don't necessarily know all the changes that are going on in public accounting.
"We developed the Top 10 list of things that you need to know. It wasn't intended to be a detailed dissemination of information, but things like 'Circular 230 is changing. Be sure that you read it. Sarbanes-Oxley has a change. Make sure you're aware of it.' If you don't know that you don't know something, it's difficult to pursue your education and take continuing professional information in an area that you need."
In addition to her enforcement and professional education work, Kilmer is also active in government relations. She joined the National Association of State Boards of Accountancy (NASBA) Legislative Affairs Committee in 2012 and helped that committee institute a new national tracking system for accounting-related legislation.
Currently, the committee is debating how to get CPAs more active in public office. Currently, just 12 CPAs serve in Congress, and only one in the Virginia General Assembly.
"We have a lot of lawyers in Washington, but it would be great if we had some people that really understand numbers," Kilmer said.
It's all part of a role Kilmer felt called to accept, and a way to give back to the profession that's given her so much.
"It's a significant amount of time away from your daily job, but I felt that I got back tenfold what I felt like I gave," she said. "It's been very rewarding, and I was honored that the new governor, even of a different political party, chose to reappoint me. I'm glad to have another four years I can serve."