Editor's Note: This is part of a series of profiles highlighting the diverse interests and careers of VSCPA members. Know a member (including yourself) who would make for an interesting profile? Email the VSCPA communications team.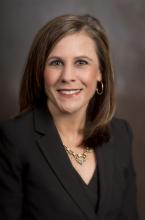 In July, Gov. Ralph Northam appointed Rogers to the open position on the Virginia Board of Accountancy (VBOA). (Northam also re-appointed another VSCPA member — Brian Carson, CPA, chief financial officer at Gold Key/PHR Hotels & Resorts, to a second term.) While Rogers is joining the VBOA in no small part to deal with issues like those she encounters as an educator, she has previous experience at both Big Four and smaller-firm levels. 
After graduating from Virginia Tech in 2001, Rogers began her career with KPMG in Richmond, where she spent eight years in the firm's audit practice. From there, she joined Creedle, Jones & Alga (CJA), a firm serving a variety of small to mid-size organizations, headquartered in South Hill with additional offices located in Emporia, Lawrenceville and Richmond at the time. But she was ultimately very passionate about teaching and Virginia Tech, and returned to the university as a professor in 2015. 
Rogers had been a teaching assistant as a graduate student at Virginia Tech and has been drawn to the classroom ever since. 
"I knew in my heart that's what I always wanted to do, but didn't know if it was possible," she said. "I knew that working in public accounting was a great first step. The educational platform that my experiences at KPMG and Creedle, Jones & Alga provided have been tremendous."   
"I feel like I can really make a classroom come to life. I'm not just teaching from a textbook. I have plenty of examples I can share with my students. They relate to that much better than just reading the book. They know that my experiences are true, that they happened, and that they can happen to them, too." 
Rogers grew up in Clarksville, near the North Carolina line, in a family of accountants. Her father, David Alga, CPA, was managing partner at CJA, and her grandfather, Mitchell Alga, and uncle, James Alga, CPA, were also accountants. So it's possible she was predisposed to enjoy the work when she took her first accounting class at Bluestone High School. 
"I instantly fell in love with it. I knew that was what I wanted to pursue even before going to college," she said. "I loved that I could help businesses. I loved the fact that we could protect the public interest through auditing. I loved the math aspect of it and the professional judgment aspect of it too." 
As the lone educator member of the VBOA, Rogers has found herself at the center of decisions about CPA candidate education requirements. She's also interested in discussing the extra 30 hours in the 150-hour requirement and what they should look like. 
She has additional experience that benefits the VBOA as well. For the past nine years, she served on the board's Peer Review Oversight Committee, which she has chaired since 2014. She stepped down from that responsibility when she became part of the main board July 1, but remains the board's liaison to the committee. 
Rogers joined KPMG out of college, serving clients in a variety of industries.  She became involved in peer review while working with Creedle, Jones & Alga. It's the entire arc of her career that allows her to take on diverse perspectives in her work at the VBOA. 
"My experience is very unique and I think it will continue to be helpful," she said. "I have Big Four, smaller firm and educational experience, and I can relate to each of those career paths." 
Rogers clearly views Virginia Tech as home, having spent her undergraduate and graduate years there before returning as a professor. She has taught Principles of Accounting (financial and managerial) classes, along with intermediate accounting, information systems audit and control and a class on forensic and investigative accounting.  Rogers is also the director of Virginia Tech's Master of Accounting and Information Systems Program. 
She and her husband have two sons who have taken full advantage of their college-town upbringing, attending numerous camps and making use of the family's football season tickets. Having that experience for her children while still finding multiple ways to make an impact on the accounting profession has been the best of both worlds for her. 
"It's a total dream come true," she said. "I love every minute of it. I love to help people, and I treasure the opportunity to help the profession grow from within through education of students and through assistance of member firms in the areas of peer review and professionalism."  
Rogers is honored and excited to continue serving the accounting profession through her role on the Virginia Board of Accountancy.