Editor's Note: This is part of a series of profiles highlighting the diverse interests and careers of VSCPA members. Know a member (including yourself) who would make for an interesting profile? Email VSCPA Communications Manager Chip Knighton.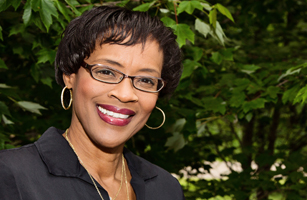 If there's a concept that encompasses the career of VSCPA member Melinda Coley, CPA, MBA, it's helping others find and take advantage of opportunities. From her day jobs in health care finding a way to connect accounting indirectly to helping others to her time on the VSCPA and VSCPA Educational Foundation boards of directors and community volunteering, she's focused on helping others throughout her career.
Coley is the finance director for the government business division at Indianapolis-baed insurance company Anthem, working out of the company's Virginia Beach office. She works largely with Anthem's Medicaid unit, responsible for financial reporting analysis/cost and budget functions. She provides financial leadership, decision support and strategic direction to support the markets' senior management team's achievement of the business plan. 
Even before joining Anthem in 2013, Coley had plenty of experience in the health-care industry, spending nearly 30 years with Beverly Enterprises, a Fortune 500 nursing-home company later rebranded as Golden Living. She started out as an accountant and rose to the position of vice president of finance before becoming director of operations after a reorganization.
"People don't really think about accounting as a service industry or helping people. I like to look at how I'm helping the community," she said. "When I was working with Beverly, their mission was to provide quality care to the residents.  I tried to help in that effort by executing on my finance role to the best of my ability, being a good steward of the organization's assets."
Coley has spent most of her life in Hampton Roads, growing up in Norfolk as the youngest of six children before attending Hampton Institute (now Hampton University). After graduating from Hampton, she worked briefly in Ohio and Louisiana while working in the oil industry, but it didn't take long before she felt the pull of home.
That's when she made the switch to health care, landing the job with Beverly. Her initial role still had her on the road on a weekly basis, but she was grateful to make Virginia her home base again, and even more grateful to find a landing spot at Anthem when her job at Beverly was eliminated in a reorganization.
She joined Anthem at an interesting time with the implementation of the Affordable Care Act in full swing, and it hasn't gotten any easier with the questions swirling around Medicaid expansion and the future of the law. The work is very interesting and she highly enjoys partnering with her colleagues to execute on Anthem's mission and values..
"I enjoy working with my markets and I try to connect things back to how I'm helping people," she said. "I enjoy helping them work with their business plans and generate results to improve and sustain their business."
Coley grew up in a Norfolk family and was the fourth of her siblings to graduate from Hampton Institute — the second with an accounting degree — before getting her master's degree from the College of William & Mary.  Her older sister, Melva, also studied accounting at Hampton before working for the U.S. General Accounting Office (now the Government Accountability Office) in Atlanta, then switching to the computer industry.  Two other siblings pursued post-high school education at other institutions.
All of the siblings drew encouragement from their parents. Their desire to see their children succeed in the academic arena informed Melinda's passion for helping others afford education. In addition to her work on the Foundation board, she's presented at the VSCPA's You Can Afford College events, aimed at providing students with the resources they need to pay for education.
"When you hear people get awards for education and speak about how important that scholarship was, and you realize you made a difference in that person's life," she said. "That's what it's all about."
She added: "I love people and I love talking and sharing my knowledge. I think it's important for people to do that to help others move forward, live their best life and let their light shine."
Showing the career potential of the CPA profession is another goal of Coley's in working with the Foundation and presenting to students. She'd particularly like to see more African-Americans in the profession — only 3 percent of CPAs are African-American, and while that's an improvement from when Coley began her career, it falls far short of the 13 percent of the population they constitute.
"One of the reasons I participate in the VSCPA is because I would like to see more diversity," she said. "I've been a member since I became a CPA in 1992. I've definitely seen a shift in what the VSCPA looks like today. If you took a picture of what it looked like when I started, it wouldn't look like me. Today, that has significantly changed and the diversity is apparent."