Editor's Note: This is part of a series of profiles highlighting the diverse interests and careers of VSCPA members. Know a member (including yourself) who would make for an interesting profile? Email VSCPA Communications Manager Chip Knighton.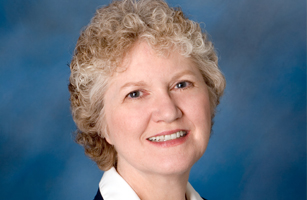 We here at the VSCPA make an honest effort to avoid puns, but sometimes you just can't avoid it, and discussing Staunton mayor (and Society member) Carolyn Dull, CPA, is one of those times. So let's get it out of the way: Dull is not dull, and neither is her job.
That's the case even after trying to simplify her life. Dull retired from her job as business manager of Augusta Correctional Center at the beginning of the year to devote more time to her mayoral duties.
"I just felt like to do a good job as mayor, I really needed to be more available," she said. "I couldn't do justice to my 'day job' or the mayor job.
"It was easier when I was vice mayor. I only needed to step in when the mayor had a conflict. I don't like to feel like I'm not devoting the amount of time that's needed to do a good job."
Dull is in her ninth year on Staunton's city council, including two years as vice mayor under Lacy King. The council elected her as King's replacement last July, a just reward for the city's longest-serving council member and a public servant elected in part to make sense of the city's finances.
"For folks who are not comfortable with 'number-crunching,' it's difficult for them to sometimes understand what may be a complex series of negotiations," she said. "It helps me, for example, when staff present a proposed budget. It's not a scary thing to me, and in fact, it's kind of fun. I enjoy getting into the weeds on that.
"It helps me in feeling comfortable and understanding the information that I get on a daily basis. And it helps me to explain something that looks like Greek to a constituent and answer their questions on various aspects of expenditures or where the revenue is coming from."
That she's a mayor in Virginia, with cities officially separate from counties, adds to the complexity of her job. During her time on city council, Dull has helped spearhead a new spirit of cooperation between Staunton, bordering Augusta County and nearby Waynesboro.
"We have a quarterly governance meeting with the chief local elected official and the administrator of the localities," she said. "We discuss ways we can create efficiencies. Our animal shelter has been a regional effort, and it's been wildly successful. We've done a lot of work that way, trying to get the most bang for our buck."
She's also pushed for efforts to reposition history-laden Staunton as a destination for entrepreneurs, including free Wi-Fi in city parks and the Staunton Creative Community fund, which assists entrepreneurs in creating startup businesses.
"We have help for them to write a business plan," Dull said. "We have microloans and competitions for startups. We're trying to mix cutting edge, what's exciting and new, with history and tradition and culture."
Those are the kinds of initiatives Dull hopes to push forward during her time as mayor. That's a big reason why she stepped away from her day job to focus on her new role. Another big reason is the opportunity to spend time with her 3-year-old grandson.
Another outlet that fell by the wayside because of Dull's governing responsibilities is her musical career. She has played music since her brothers, John, Paul and George — no Ringo, sadly — formed their band, Barnstorm, as teenagers.
"When I was a teenager, girls weren't in bands," Dull said. "My brothers had a band, and the only way I would get to play is if another band member couldn't make it and they had to cancel a gig or let me play. They had to grudgingly let me play, and as things progressed, they said I could be in the band."
That beginning meant that Dull, primarily a bass player, turned into a musical jack of all trades. She added saxophone, guitar, drums, keyboard and harmonica to her plate, largely in her most recent band, Whiskey Creek.
While that band is on hiatus due to her government responsibilities, Dull has been known to show off her voice at Virginia Municipal League gatherings.
"Invariably, if they have a band playing, someone will go up there and tell them to call me up to sing," she said. "I'll generally do something like 'Mustang Sally,' a perennial favorite."