Editor's Note: This is part of a series of profiles highlighting the diverse interests and careers of VSCPA members. Know a member (including yourself) who would make for an interesting profile? Email VSCPA Communications Manager Chip Knighton.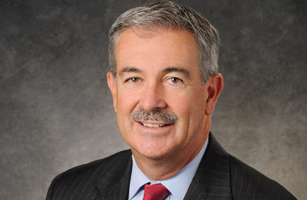 As often happens with Virginia Board of Accountancy (VBOA) members, Marc Moyers, CPA, pulled back from the VBOA and his day job at roughly the same time. That timing had him in a reflective state of mind when he recently spoke with the VSCPA.
Moyers, 61, had retired from his role as a partner in KPMG's Richmond office over the winter. While he was appointed to the VBOA as the Big Four representative, he saw his role as bigger than that.
"I viewed myself as representing the interest of users of CPA services in Virginia, as well as Virginia licensees," he said. "I had the perspective of serving in an international firm my whole career, so some of the challenges of smaller firms and sole practitioners were not as familiar to me. The industry focus on licensing issues, peer review and audit quality were a good fit with my background working in the audit practice in a large firm."
And he took full advantage of the opportunity provided him to fill that role in a growing area of emphasis for state boards of accountancy. While work quality remains a major area of focus for the VBOA and its counterparts across the United States, Moyers believes that Virginia's Board has struck the right tone in its dealings with licensees.
"The Board is focused on how to provide information to licensees so they are better able to comply, instead of looking to sanction members who are not complying," Moyers said. "That's part of the role, but the great majority of licensees do want to comply, and it's important that we reach out and provide resources to licensees so they can comply."
Moyers also served as the VBOA liaison to the Virginia-specific Peer Review Oversight Committee (PROC), an independent committee involved with overseeing the peer review process for Virginia licensees. He made a difference there, opening up new lines of communication between the PROC and the VBOA and instituting a rotation policy to keep the committee fresh.
Audit quality is an issue that will continue to crop up and draw attention in the coming years, and peer review is a major part of the oversight process. Another major issue coming down the pike for the VBOA is a U.S. Supreme Court ruling that state licensing boards can't claim so-called "state action" immunity from antitrust laws.
Boiled down to its essence, the decision focused on licensing boards that, like the VBOA, are controlled by active participants in the markets they regulate. One possible solution is instituting some sort of state review process for VBOA decisions.
"You can either restructure the board so it's not majority licensees or provide for a government mechanism with veto power so there's no perception of restricting the practice inappropriately in the state," Moyers said. "…Those are really significant challenges within the profession, and it deals with the ability of the profession to regulate itself."
The challenge in making the proper changes is in preserving the VBOA's hard-fought independence, which it's enjoyed since splitting off from the Virginia Department of Professional and Occupational Regulation (DPOR) in 2001. The VBOA continues, however, to operate in a healthy regulatory environment built on the updated Virginia accounting statutes and regulations, championed by the late Steve Holton, CPA, over the past decade.
While his role on the VBOA has ended, Moyers continues to be involved with the regulatory environment through the National Association of State Boards of Accountancy(NASBA). He continues to serve on the NASBA Ethics Committee, a group charged with promoting the development and maintenance of high-quality standards of ethical practice to protect the public interest.  In addition, he was recently elected to a two-year term as the Mid-Atlantic representative on the NASBA Nominating Committee, where he will be involved with selecting nominees for NASBA officers and directors.
Moyers also served on the VBOA's Enforcement Committee and as a liaison to the Ethics Committee. He was VBOA vice chair in 2015–2016.
"Marc was a great asset as a go-to Board member to discuss general areas of interest relative to the accounting profession, statutes and regulations, Board policies and procedures and other business," VBOA Executive Director Wade Jewell said. "I will miss that ability to reach out at any time for his guidance and wisdom."
With Moyers' accounting career drawing to a close, he's in search of different ways to make his mark. He's had discussions about joining corporate boards as a way of using his accounting talents to improve governance. And he's planning on spending more time with his family, which is spread across the country.
That's a kind of travel that's a lot more palatable to Moyers than the jet-setting end to his public accounting career.
"The last 10 years of my career, I was traveling on an airplane pretty much every week," he said. "While I liked what I did and the people I worked with, the wear and tear of that lifestyle can be pretty tough. It was nice to back away from that and not have to deal with the challenges of it and to spend some more time on things I had been involved in, but didn't have enough time to fully deal with."
And as he takes his leave of his day-to-day role in the profession he loves, he's been effusive in handing out credit to his VBOA colleagues.
"One of the reasons that the Virginia Board is really effective and high-functioning is the quality of the Board members themselves as well as the VBOA staff," he said. "The folks I had the opportunity to work with on the board and the staff for my four years were really high-quality professionals who had the best interests of the profession and the licensees in mind."