Editor's Note: This is part of a series of profiles highlighting the diverse interests and careers of VSCPA members. Know a member (including yourself) who would make for an interesting profile? Email the VSCPA communications team.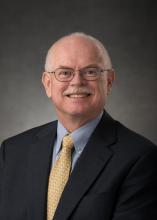 As chair of the VSCPA's Virginia Accounting & Auditing Conference (A&A) Committee, Lynn Almond, CPA, is going back to his accounting roots. 
Almond is an assistant professor of practice at Virginia Tech, the university where he took both his bachelor's and master's degrees. He was a graduate student in the mid-80s and ended up as the assistant to Sam Hicks, who was then the chair of the A&A Committee. Being his assistant meant a great deal of strong mentorship, but it also meant doing some of the grunt work for the conference.
"I helped Sam by carting computers over to the Donaldson Brown Center, where the conference was held at that time," Almond said. "I'd go over there and help him get it organized. Here it is, several years later, and here I am back at the conference again in the same role Sam had."
Almond chaired the committee for the first time leading up to last year's conference and served as treasurer before that. The conference, a collaboration between the VSCPA and Virginia Tech, is held in Roanoke, Northern Virginia and the Tidewater area. It was the last of those events that caused the most consternation for Almond in his first year on the job, with a move from Virginia Beach to downtown Norfolk causing logistical issues.
This year, the conference is back at its traditional home, the Founders Inn and Spa in Virginia Beach. But despite the issues that came from the venue change, Almond was pretty pleased with his first year in the big chair.
"Everybody seemed to say, after the fact, that things went smoothly. I have to admit I was a little surprised to hear that," he said. "I felt like I was just running around constantly. But overall, I think it did go smoothly."
Almond spent his first stint at Virginia Tech as an undergraduate after moving several times during his childhood. He was born in Roanoke, but his father relocated regularly as an engineer for IBM. The family's last move brought them to Blacksburg when the company wanted to place an engineer at Virginia Tech, one of its biggest accounts.
He stayed in Blacksburg to get his undergraduate degree in business, graduating in 1976. He worked various jobs for a decade, then went back for his master's degree, at which point accounting entered the picture. 
"When I was in undergrad, I took a lot of accounting courses and liked them," he said. "I decided that if I didn't do it then, I was never going to do it. I came back here and got a master's in accounting and graduated in 1988, then went out and worked predominantly in private accounting in the manufacturing world for a couple of different companies. Some were not very high-tech and some were extremely high-tech. I saw the gamut."
Almond spent 25 years working in corporate finance, but memories of his teaching experience as a graduate student never quite left him. He wrote his former advisor, Bob Brown, and indicated his interest in a teaching career. In 2010, he got the call from Brown that it was a possibility, and he's starting his 10th year as a professor this month.
Over that decade, he's taught all the financial accounting courses Virginia Tech offers, as well as managerial accounting. He's coordinated the introductory financial accounting course for several years, teaching some sections and working with graduate students that teach the remaining sections.
"It's very rewarding," he said. "I've helped a lot of students get internships and jobs. It's nice to help people get their career started. Maybe they can avoid some of the mistakes I made."