Editor's Note: This is part of a series of profiles highlighting the diverse interests and careers of VSCPA members. Know a member (including yourself) who would make for an interesting profile? Email VSCPA Communications Manager Chip Knighton.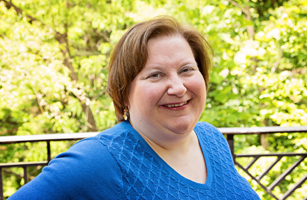 If you wanted to create the perfect individual to demonstrate the wide range of career paths that come with the CPA credential, you might look to Lori Overholt, CPA, as a model.
Overholt is president and CFO at VSA Resorts, a vacation ownership company based out of Virginia Beach. Her work in keeping a small private company running from the top earned her a Virginia CFO Award in 2015, and the challenge it provides is what keeps her engaged in her work.
"Ultimately, I feel like the biggest thing is that 100 paychecks are relying on me to make the right decision," she said. "That's more of a challenge that I feel responsible for other people's paychecks, not just my own."
Overholt started her career in public accounting after graduating from the University of Virginia (U.Va.), but there's more to the story than that. After having a nightmarish introduction to the professional accounting world, she got a pep talk from one of her professors, Richard Grinnaker, that compelled her to give it another shot.
"I did an internship with what was then Coopers & Lybrand," she said, "and all I did the whole two weeks was to count quarters at an arcade. I thought if that was what I was going to be doing all my life, I couldn't do it. I was bored out of my mind.
"I went back and talked to my professor and said it wasn't for me, and he recommended that I didn't go to what was the Big Eight. He said there were a lot more things I could do in accounting, that I could be more hands-on if I went to a smaller firm.""
So that's what she did. She started her career in earnest with a two-year stint at what was then Keiter Stephens outside Richmond, then joined a smaller firm, Failes & Associates, that later merged with regional firm Cherry Bekaert.
Eventually, she decided that she'd be better off working in corporate finance and moved to an industry position with Landmark Communications, a media company that operated several large newspapers and The Weather Channel at the time.
"For me, at that point, I wanted to make partner, and partner was about bringing in clients," she said. "That wasn't where I was at that stage. I wanted to be more involved and not be a salesperson."
She then moved over to Dollar Tree Stores before joining VSA Resorts as a controller in 2005, buying in as an owner two years later. Overholt's success at VSA is a perfect encapsulation of the value accountants in corporate finance bring to their employers.
"Everything, basically, is your responsibility. I feel like accounting is strategic, and the career path is unique to that," she said. "In tax, especially, you have to know everything about what they're doing. You have to understand all the processes and operations to know where you have tax deductions. I felt like it was an easy shift given what I knew about the company."
And it's helped her expand the company's offerings. In 2013, she started VSA Association Management, a new division in the company that deals with condo association management. She's also become an industry leader in timeshare accounting, serving on the American Institute of CPAs' (AICPA) Task Force for Revenue Recognition for the Timeshare Industry.
In that position, she helps drive accounting standards for the timeshare field. That kind of foresight and proactive thinking is a major reason why she's had so much success at VSA.
Asked what skills she values the most as a CFO, Overholt cited "the overall education and continuing education requirement and knowing what's coming down the pike. Having that understanding of how things affect the financial statements, like how revenue recognition rules are about to change and how that affects operations. Just understanding the whole big picture."
And that extends beyond her financial acumen into making sure the guest experience at her company's three oceanfront resorts is top-notch.
"I love that what we do for people is create vacation memories," she said. "When you look back at your life, those are the things you remember, and I love being a part of that."
Overholt grew up in Virginia Beach, the daughter of a Navy father and a bookkeeper mother. Her mother's experiences helped push her into accounting classes at Green Run High School, and she enjoyed it enough to stick with it at U.Va.'s McIntire School of Commerce.
After moving past her early experiences, she joined Keiter Stephens and found that small business consulting and tax work appealed to her much more than the classic audit role. That first experience with the arcade seems miles away from her career in the travel industry.
"I never would have, in a million years, thought this was where I would end up. But I love it," she said. "You don't have to be in an audit firm for the rest of your life or do taxes for the rest of your life. There's a huge array of things you can do outside of that."