Editor's Note: This is the first in a series of profiles highlighting the diverse interests and careers of VSCPA members.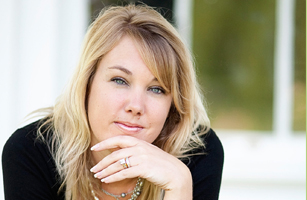 Accounting and parenthood are extremely fulfilling in different ways, but when you list the benefits of each, "lots of spare time to pursue creative outlets" probably isn't near the top of either one. That hasn't stopped VSCPA member Clare Levison, CPA, from indulging her love for the written word.
Levison, an analyst with Alliant Techsystems, Inc., in Radford, has been published in the VSCPA's magazine, Disclosures — you can read her articles here (PDF) and here (PDF).
She has also written a personal finance column for The Roanoke Times and contributed articles to other accounting publications. That's not the full extent of her writing portfolio, though. Shortly after the birth of her first daughter, Brenna, she wrote fiction along the lines of the Baby-sitters Club series, her favorite books as a child.
"I've always wanted to be a writer," she said. "…But I don't think fiction was my forte."
That decision was a huge net positive for Alliant and the Virginia accounting community. Levison has excelled in her day job, specializing in organizational finance. Her talents in budgeting and pricing made her a natural fit as a personal finance spokesperson, and she parlayed that interest into her newspaper column and a spot on the American Institute of CPAs' (AICPA) National Financial Literacy Commission (NFLC).
Levison has spent her entire 12-year professional career with Alliant. Her professional success (she received the VSCPA's inaugural Top 5 Under 35 Award in 2010) becomes even more impressive when you factor in that she's been part-time at Alliant for eight years. She was pregnant with her younger daughter, Elise, when she decided she wanted to go part-time in order to spend more time with her children.
Her part-time status has also allowed her to indulge her creative side, and she says she feels as involved with her employer and the accounting profession as she ever did.
"Strong time management skills are essential for a part-time employee," she said. "I don't feel less connected with my company, maybe because I've been there for so long. The VSCPA offers great networking opportunities for being connected to the profession."
The extra time away from work also allows her to maintain a busy volunteer schedule. In addition to her work with the VSCPA Board of Directors and the NFLC, she's the president of the parent-teacher association at Elise's school. She also works as a Girl Scout leader and a Sunday school teacher at her church.
With that full plate, Levison is light-years away from what she describes as "the stereotype of the dull, boring accountant." She's taken her passion for financial literacy and created a fulfilling sideline to her day job. And her creative vision for her career helped her free up the time to pursue that sideline.
Despite her writing jones, Levison says she can't imagine herself in any career other than accounting. She jokes, "Maybe I could be a lottery winner," but if she ever gets to the point where she leaves the accounting profession permanently, Alliant, Virginia's citizens and the VSCPA will be poorer for it.
Know a CPA who would make for an interesting profile? Email VSCPA Communications Specialist Chip Knighton.