Editor's Note: This is part of a series of profiles highlighting the diverse interests and careers of VSCPA members. Know a member (including yourself) who would make for an interesting profile? Email VSCPA Communications Manager Chip Knighton.
Kellie Fedkenheuer, CPA, CFE, CFF, got into accounting — specifically, auditing — to make a difference in the world. She's teamed up with the VSCPA to find a new way to do just that.
Fedkenheuer is an audit manager at Cotton & Company, LLP (Cotton), a CPA firm in Alexandria that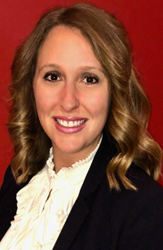 provides audit and litigation support solutions, with a focus on serving governmental agencies and dealing with public funds. She spends her work hours in the firm's litigation support and forensic accounting team, serving as a gatekeeper and check on the spending of taxpayer money. She also teaches the VSCPA's Virginia-specific Ethics course in her spare time.
"Ethics is one of the most important CPE courses that CPAs take every year," she said. "The public respects and looks up to the CPA profession, so it is very important that CPAs always act ethically, and take this course every year to remind them of the importance of that."
That's appropriate, because Fedkenheuer's admiration of a CPA profession was a major part of her finding her way to her current position. She started as a marketing major at James Madison University (JMU) in Harrisonburg, but switched to accounting when she enjoyed her introductory business classes that included accounting. She found inspiration from her audit professor, Bob Richardson, CPA, at JMU, and knew that her calling was to work in audit.
Richardson was the first of a few mentors who shaped Fedkenheuer's career path. She has primarily worked with two partners at Cotton: Sam Hadley, CPA, and Michael Gillespie, CPA, who are in charge of Cotton's Public Auditing and Litigation Support markets, since the beginning of her career in 2010. Hadley and Gillespie have helped her become proficient in litigation support and auditing public funds. And her firm's founder, VSCPA member David Cotton, CPA, was her conduit into the VSCPA's Ethics process.
Fedkenheuer started teaching Ethics in 2014 and credits the course for improving her public-speaking skills and helping her think more critically about the AICPA Code of Professional Conduct. It's also helped her expand her professional network, just like her other volunteer work with the Society — she's a VSCPA Ambassador at her firm and has served as a MentorMatch mentor and on the Business Valuation, Fraud & Litigation Services Conference planning committee.
"We have a Thought Leadership Committee at Cotton that encourages employees to be involved in different professional organizations," she said. "The VSCPA is one that I've encouraged people to join and become more active in. The Ambassador program has helped keep me in the know, and has provided me information that I can pass on to my employees about how they can get involved."
That inquisitive nature is a main point in Fedkenheuer's career in litigation support and forensic accounting. She enjoys putting her audit training to work in solving a wide variety of problems and helping to safeguard taxpayer money.
"A lot of the litigation support work that we do at Cotton is claims analysis," she said, "where we analyze the claim to make sure the claimed costs are allowable and reasonable as well as allocable to the issue being litigated. We ensure that the government is paying a reasonable amount, which is a rewarding and valuable task because you can help ensure that funding is spent properly.
"It's very interesting work. Every project is so different and complex. It takes a unique skillset to work on such a wide variety of industries, but it always involves being analytical and questioning."
A Virginia Beach native, Fedkenheuer entered the profession with the goal of working as an auditor in public accounting. She graduated from JMU in 2010 and learned about Cotton at a JMU career fair. She accepted a job at the firm after graduating and has worked there ever since.
"With audit, you can really make a difference," she said. "We can save taxpayers money by identifying unreasonable claims, funds were spent inappropriately, or through the identification of fraud indicators. I find that to be very valuable and something that benefits taxpayers."
Much of her work experience has been working on projects with Hadley, who is often retained as an expert witness, with the preparation of reports that are used to assist the trier of fact at trial, mediation or arbitration. Fedkenheuer had her first expert witness opportunity last summer, where she authored and signed the expert report and was deposed about the opinions and conclusions within her report. She was scheduled to testify in court, but the matter settled shortly before that start of trial.
"There are a lot of nerves there. You have to be very prepared," she said. "You have to know your opinions inside and out and all the documents and information that you relied on to form those opinions. In a deposition or at trial, you are questioned not only about your overall opinions, but your background, qualifications and experiences on all projects, so it can be a nerve-wracking situation. I find it exhilarating, because I enjoy a good challenge."